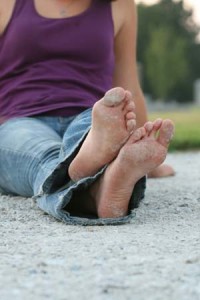 Five tips for happy feet
26 July, 2012
By Rima Shah
Natural Health News
Our feet deserve a good treat, so look after them and they'll look after you.
Here's some top tips to keep them in beautiful shape any time of the year, but especially in the summer when they tend to be on show more!
Have a relaxing and aromatic foot bath
Use a bucket, otherwise a large bowl will do.  To this add some warm to hot water.  To this you can add some salts, ideally dead sea salt, if not then some rock salt or even good old table salt – you'll need about 2 tablespoons.
To make an aromatic foot bath you can add some essential oils depending upon how your feet are feeling.  To help revive aching feet add 2 drops of lavender and 2 drops of chamomile.  To aid relief from odour add 2 drops of tea tree and 2 drops of lavender.  For the onset of a cold add 2 drops of eucalyptus and 2 drops of tea tree.  Or just get creative – see our Essential Oil Blends chart for suggestions. In total you want to add 4 drops of essential oil, but make sure that the essential oils are diluted in a tablespoon of a carrier oil or full fat milk first to help them disperse.
Get the clippers out

Toenails can get quite unruly, so remember to keep them short and tidy.  When washing feet make sure you dry between the toes as well as over the toenails themselves.
Soften up
If you suffer from hard and rough skin apply a rich cream or good quality oil at night and wear some thick socks for the night.  This should help to soften the skin making it easier to scrub off the next day.  Good oils to try include olive, coconut, pure shea butter or pure cocoa butter.  Otherwise go and get a wonderfully relaxing pedicure once a month.
Elevate to rejuvenate
If you are someone who is on their feet for most of the day and you suffer from heavy or swollen/puffy legs then try to make some time daily to rest your legs.  Keep your legs raised on a pouffe or leg rest if you are watching the TV and slowly rotate and flex your feet.  If you can try and raise your feet higher than your head for a short while every evening.  You can do this by lying on your back on the floor near a wall and raise your legs up against the wall.  This can also be done on the bed if it's near a wall.  Just do this for a few minutes at a time, but stop if you ever feel dizzy.
A great treatment to aid heavy or swollen legs is the Vodder Manual Lymphatic Drainage massage.  The Ayurvedic Kansa Vatki foot massage is also brilliant for relieving tired and aching legs and feet.
Fight infection
Treat athlete's foot, warts and verrucae as soon as they arise to avoid spread of infection.  There are plenty of things available at the chemist if you want to try that.  Otherwise to treat naturally you can make your own garlic oil and apply that daily to the affected areas and cover.
To make garlic oil you will need a bottle with some olive or sunflower oil, to which you will need to add some garlic cloves.  Seal the bottle well and put away.  After one week, strain and add more garlic cloves to the same oil (discarding the old cloves).  Leave for another week and then repeat again.  After 3 weeks you will have a wonderful garlic macerated oil.
Remember also  to visit your doctor, chiropodist or podiatrist with any foot problems especially if you are diabetic or prone to aches and pains in the feet.