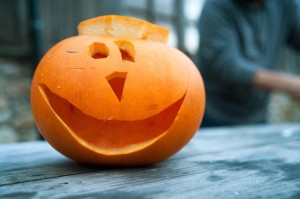 FROM FARM TO FORK: December 2011
20 December, 2011
By Ashley Wheeler, Kate Norman & Daphne Lambert, Trill Farm
Natural Health News
In the first of our new monthly series from Trill Farm in Devon we get a glimpse of the freshest seasonal foods that we can all enjoy at home and some tasty recipes to try from the Trill Farm kitchen.
Trill Farm Garden, is a three-acre plot on the farm managed organically by Ashley Wheeler and Kate Norman.  The garden supplies the farm as well as local restaurants and Ash & Kate's market stall in Lyme Regis. Daphne Lambert, some of whose recipes are on this site, works in the Farm's kitchen turning seasonal produce into delicious meals.
From the garden…
Winter sees a sharp decline in the variety of vegetables that we grow – as all of the summer poly-tunnel crops are pulled out and replaced with overwintering salad.
These salads and herbs are growing much quicker than last year due to the mild weather, but the mild wet autumn also meant a rise in slug populations – leading to a lot of damage to our new plants.
Our basil suffered, and although very tasty ended up mostly as pesto! This has been replaced with chervil, coriander and overwintering parsley all of which are cropping well.
Garlic planting was delayed because of the wet soil, but we eventually managed to plant three varieties including lots of elephant garlic – which if this last year was anything to go by they'll be a bit of a crowd puller with our market customers especially.
As for us, we are now used to the dark evenings and having our days cut short. Although things never stop in the garden we find ourselves able to take a small step back and try and rest after another hectic but enjoyable year.
…to the kitchen
Ash & Kate's harvest of winter squash is piled high in the manor barn at the moment. In spite of their name winter squash and pumpkins are a warm weather crop, but so called because they can be stored well through the winter.
The stored fruits (we tend to call them vegetables, but biologically they are fruits) provide nourishing food during the colder months. There are many different varieties of pumpkins, some are tiny and nestle in the palm of your hand, others too big to move single-handed.
There are also infinite recipes to celebrate their diversity.
Here are two recipes, the first is inspired by the golden oval spaghetti squash packed in crates in the barn and the second is an old favourite of mine, pair the two together for a winter squash celebration.
Spaghetti squash with sun-dried tomatoes, olives, artichoke & feta
Ingredients
1 spaghetti squash
2 tablespoons olive oil
1 onion finely diced
2 cloves garlic finely diced
1 carrot diced
2 sticks celery sliced
6 sun-dried tomatoes – finely sliced
6 sage leaves finely shredded
12 pitted black olives
12 char-grilled artichoke pieces
4 oz crumbled feta
Method
1 On a baking tray bake the whole squash in the oven  (350 F or gas 4/5) for about 45 minutes or until a sharp knife can be inserted easily. Remove and set aside until cool enough to handle.
2 Gently cook the onion & garlic in the olive oil until soft. Add the carrot and celery and cook for a further 3 minutes, stir in the sun-dried tomatoes and sage. Keep warm.
3 Cut the spaghetti squash in half and using a large spoon scoop out the stringy pulp, add to vegetable mixture along with the olives and artichokes. Warm through and serve with feta cheese crumbled on top.
Pumpkin bread

Ingredients
1¾1b (800g) pumpkin cut into cubes
2 tablespoons pumpkin seeds
2½ 1b (1 kg)strong baking flour
1 teaspoon salt
1 oz (25g) yeast
Oiled baking tray
Method
1 preheat the oven to 200°C
2 Cook pumpkin in just enough water to barely cover until tender, strain, reserve cooking liquid and sieve.  Dissolve yeast in 3 fl oz (75ml) of the cooking liquid and leave for 10 minutes until frothy.
3 Mix flour, salt, yeast, sieved pumpkin, pumpkin seeds and enough of the cooking liquid  together until you have a soft malleable dough.
4 Knead for 5 minutes, turn into oiled bowl and leave for about an hour or until double in size.
5 Shape into rolls and place on the prepared tray leave to double in size again before baking 20-25 minutes in the preheated oven.
Trill Farm is a family run organic farm set in the rolling hills of Devon. To find our more or to visit the farm visit the Trill Farm website here.