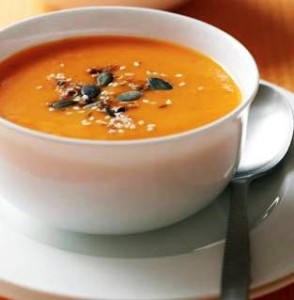 Warming pumpkin soup
25 October, 2012
By Staff Writer
Natural Health News
Here's a lovely warming soup with a silky texture and a gorgeous autumnal colour.
This recipe, which can be cooked up in a single pot, makes the most of the comforting sweetness of the pumpkin and the warming curry spices and a hint of exotic coconut. For a real seasonal  'wow' factor try serving in hollowed out pumpkin shells.
Ingredients
4 tbl olive oil
2 onions, peeled and chopped
3 garlic cloves, peeled and finely chopped
1 tbl light soft brown sugar
1kg (peeled weight) pumpkin or squash, chopped into chunks – reserve the seeds
700ml vegetable or chicken stock
1 tbl curry powder
1 tsp powdered ginger
1 tsp ground cumin
60g (2 ounces) creamed coconut (about ¼ block)
2 tbl Greek yoghurt or crème fraiche (optional)
Method
1 Heat 1tbl olive oil a large saucepan, and the reserved pumpkin seeds (cleaned of any excess flesh) and a pinch of salt and cook on a medium heat until toasted. Remove and set aside.
2 Add 3 tbl olive oil to the pan and gently cook the onions and garlic until soft but not brown
3 Add pumpkin or squash to the pan, along with the sugar, curry powder ginger and cumin then carry on cooking for 8-10 mins, stirring occasionally until it starts to soften and turn golden.
4 Pour stock into the pan, then season with salt and pepper. Bring to the boil and add the creamed coconut, then simmer for 10 mins until the squash is very soft.
5 Purée with a hand blender. For an extra-smooth consistency you can run soup through a fine sieve into another pan.
6 If you want an extra creamy taste stir either yoghurt or creme fraiche into the warm soup before serving (or put some on the table to everyone can add a spoonful if they choose)
Serve with croutons and roasted pumpkin seeds scattered on top. Serves 6.