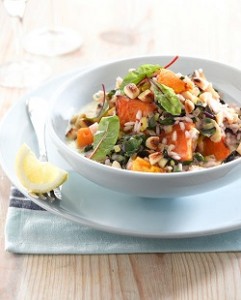 Roast pumpkin and swiss chard risotto
6 February, 2014
By Staff Writer
Natural Health News
There's nothing quite so comforting as a creamy risotto on a cold night.
This lovely recipe makes good use of pumpkin, which is full of fab nutrients and which also stores so well over the winter. But if you don't have a pumpkin try using another kind of brightly coloured squash.
Ingredients
600g  (1¼ lb) pumpkin
4 tbsp olive oil
1 tbsp maple syrup
a pinch cinnamon powder
50 g (3 rounded tablespoons) blanched almonds, chopped
225 g (7 oz) trimmed leek, finely chopped
250 g (8 oz) Arborio or Carnaroli risotto rice
100 ml (3½ oz) vegetarian dry white wine
900 ml – 1 litre (2 pints) light vegetable stock
150 g (5 oz) Swiss chard (leaves only) roughly shredded
1½ tbsp single cream
season to taste plus a squeeze of lemon juice to serve
Method
1. Heat oven to Gas 5/ 190°C/ 375°F. Cut the pumpkin into quarters, peel and de-seed. Then cut into thick slices/segments (approx 12-15cm) and place in a roasting pan. Mix together 2 tbsp oil, maple syrup and cinnamon and drizzle over the pumpkin. Roast for 25-30 minutes until tender, take out of the oven and cut into large dice.
2. In a small frying pan heat 1 tsp oil and lightly toast the almonds until golden. Set aside.
3. Heat the remaining oil in a large frying pan and sauté the leek until soft. Add the rice and stir until the grains are well coated and slightly golden. Pour in the wine and stir until it is absorbed.
4. Add one ladle of hot stock and simmer until absorbed. Repeat. After 10 minutes add the chard and let wilt. Continue to add stock at intervals and cook until absorbed into the rice (you may not need all the stock). Season well with salt and pepper.
5. Once rice is tender but still very slightly al dente, add the cream and cook for a further minute before adding the pumpkin. Remove from heat, cover and rest for 2 minutes. When ready to serve sprinkle over the roasted almonds and a squeeze of lemon juice.
The Vegetarian Society Approved trademark is the original and only one to trust. The only legally licensed vegetarian trademark, you can ensure that where you see its logo, all products have passed through its strict criteria and can be guaranteed 100% vegetarian. To find out more visit http://www.vegsocapproved.com/
Recipe copyright © The Vegetarian Society 2007.

Top News Stories
Keep In Touch
Please subscribe me to your newsletter mailing list. I have read the
privacy statement