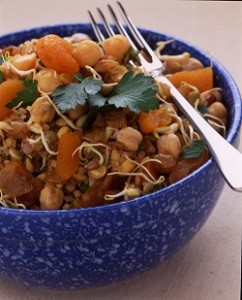 Apricot and chickpea salad
3 July, 2014
By Staff Writer
Natural Health News
Looking for some lunchtime inspiration?
Or maybe something to serve on a picnic or lazy day in the garden?
This Turkish-inspired recipe is satisfying and delicious and can be made ahead of time to serve when you are ready. Serves 4
Ingredients
 For the salad:
100g (3 oz) bulgar wheat
 100g (3 oz) cooked chickpeas
 50g (2 oz) sprouted mixed pulses
 50g (2 oz) dried apricots chopped
 25g  (1 oz) toasted flaked almonds
 2 tbsp chopped parsley
 For the dressing:
1 tbsp groundnut oil
1 small onion, finely chopped
1 tsp crushed dried chillies
1 tsp ground cumin pinch cinnamon pinch ground cloves
to taste salt & pepper
Method
1 Pour boiling water over the bulgar wheat and leave to stand for 30 minutes then drain. Fluff the grains up with a fork.
2 Mix together the bulgar, chickpeas, sprouted pulses, apricots, almonds and parsley in a bowl.
3 To make the dressing, heat the oil in a pan, fry onion until soft. Add spices, cook for 2 minutes, season and stir into the salad immediately.
The Vegetarian Society Approved trademark is the original and only one to trust. The only legally licensed vegetarian trademark, you can ensure that where you see its logo, all products have passed through its strict criteria and can be guaranteed 100% vegetarian. To find out more visit http://www.vegsocapproved.com
Check out the Vegetarian Society's new free recipe app
Recipe © The Vegetarian Society

Top News Stories
Keep In Touch
Please subscribe me to your newsletter mailing list. I have read the
privacy statement