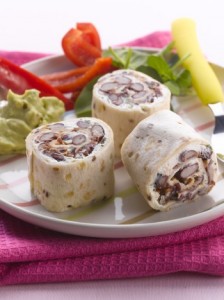 Spicy bean mini-wraps
19 May, 2015
By Staff Writer
Natural Health News
These wraps are ideal for when you are 'brown bagging' it for lunch or as a snack served with carrot sticks, slices of red pepper or a dollop of guacamole. For a variation, why not mash a ripe avocado and spread it on to the wrap in place of the cream cheese and chives?
Make ahead of time to allow them to set. This quick to prepare recipe makes between 12-14 mini wraps.
Ingredients
75g  (2 oz) vegetarian cream cheese
3 tsp dried chives
2 x 25cm tortilla wraps
400g (13.5 oz) tin of kidney beans, drained
1 small clove garlic, finely chopped
1 tbsp lemon juice
1 tbsp olive oil
1 tsp paprika
1 tbsp tomato purée
Method
Stage one
1 Using a fork, mix the cream cheese and chives together in a small bowl.
2 Place the two tortilla wraps side by side on a flat surface.
3 Spread the cream cheese and chive mixture on the two tortillas, dividing the mixture evenly.
Stage two
1 Pour the kidney beans into the sieve and rinse well.
2 Transfer the beans to the medium mixing bowl and slightly mash them with the remaining five ingredients.
3 Again dividing evenly, spread this mixture on top of the cream cheese and chives, leaving a gap of approximately 2cm at the top end of each wrap.
4 Roll the tortilla in a sausage shape, starting from the bottom and rolling toward the gap at the top.
5 Wrap each tortilla in cling film, twisting the ends of the film tightly.
Stage three
1 Refrigerate for 4 hours.
2 Remove the cling film and slice into 6 or 7 even rounds.
The Vegetarian Society Approved trademark is the original and only one to trust. The only legally licensed vegetarian trademark, you can ensure that where you see its logo, all products have passed through its strict criteria and can be guaranteed 100% vegetarian. To find out more visit http://www.vegsocapproved.com/
Recipe © The Vegetarian Society 2009  (taken from the booklet Veggie Kids' Kitchen, available for free from the Vegetarian Society)