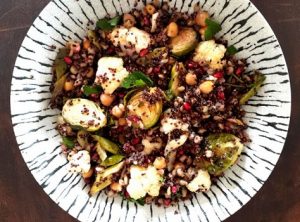 Quinoa, black lentil & roasted barley salad
2 March, 2016
By Alison Victor
Natural Health News
To celebrate the International Year of Pulses many countries around the world are offering up traditional and new creative recipes using pulses as their base.
We particularly liked this recipe from Australia for its originality and complex mix of flavours and textures. Serves 6 as a side salad.
Ingredients
½ cup (125 g) red quinoa
¼ cup (65g) black lentil
½ cup (125g)  barley, soaked overnight
½ cup (125g) chickpeas, soaked overnight
½ cauliflower head, florets picked off and hard stem discarded
10 Brussels sprouts, sliced in half
1 celery stick, cut in half
1 spring onion
2 cloves garlic, roughly chopped
1tsp ground cumin
1tsp ground coriander
4tbs olive oil
1tsp paprika powder
1tsp ground white pepper
1/2 cup parsley, chopped
6 mint leaves, chopped
1 pomegranate, seeds only, reserve for garnish
1/2 cup (125ml) extra virgin olive oil
1/4 cup (a good handful) parsley, chopped
1/4 cup (65ml) apple cider vinegar
1/4 lemon, juiced
1/2tsp paprika powder
1/2tsp ground white pepper
6 mint leaves, chopped
Method
1 Preheat fan forced oven to 180° C (gas mark 4, 350° F).
2 Cook red quinoa and black lentil together with 1 garlic clove and half a celery stick in a pot using twice the amount of water to the pulses. Cook for 20 mins until soft. Fluff with a fork and cool.
3 At the same time, cook soaked chickpeas and barley in some water for 30mins. Drain and add to a large oven proof dish.
4 To the same dish, add the cauliflower florets, brussel sprouts, celery stick, garlic clove, ground cumin, coriander, paprika, white pepper, parsley and olive oil and mix well. Roast in the oven for 30 mins until the veggies start to brown, then remove.
5 Stir in the cooked black quinoa, black lentil, pomegranate and mint leaves.
6 For the dressing, mix together olive oil, parsley, apple cider vinegar, lemon juice, paprika, black pepper and mint leaves in a jar and shake until well mixed. (For added spice, you can always add a sliced chilli into the salad dressing).
7 Pour dressing over salad and mix well. Serve warm or cold.