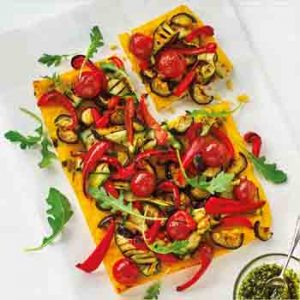 Polenta with grilled vegetables
31 March, 2017
By Staff Writer
Natural Health News
Beauty needs to be nourished from within.
This rainbow of vegetables is abundant in antioxidants, including the flavonoid quercetin, in red peppers, which rejuvenates skin cells, promoting a smooth complexion. They also promote healthy teeth and gums and strong nails. It's quick to prepare – just 30 minutes – so eat up and enjoy! Serves 4.
Ingredients
750ml (1 1⁄4 pints) vegetable stock
160g (5 3⁄4oz) polenta (quick cook)
25g (scant 1oz) fresh basil, leaves only and roughly torn
25g (scant 1oz) Parmesan cheese (optional)
1 tbsp olive oil
2 courgettes, sliced into ribbons 3-4mm thick
1 aubergine, sliced into strips 3-4mm thick
2 red peppers, deseeded and cut into strips
10 cherry tomatoes
freshly ground black pepper and Himalayan pink salt
rocket leaves and a drizzle of olive oil or herb pesto to serve
Method
1 Bring the stock to the boil, add the polenta, and cook for about 5 minutes, stirring constantly, until all the liquid has been absorbed and the mixture is thick. Add the basil and, if using, the Parmesan, stir for 30 seconds, then tip the mixture onto a large baking tray lightly wiped with oil.
2 Use a palette knife to spread out the polenta to about 1 cm thick. Leave to set for about 20 minutes. Flip the baking tray upside down onto a chopping board. Cut into a rectangle, lightly brush with olive oil, then grill until golden and crispy. Set aside.
3 Brush the vegetables with olive oil, season, and lightly grill for about 15 minutes, until tender. Stack the vegetables on top of the polenta, scatter over the rocket leaves on top, and serve with a drizzle of olive oil or herb pesto.

Top News Stories
Keep In Touch
Please subscribe me to your newsletter mailing list. I have read the
privacy statement