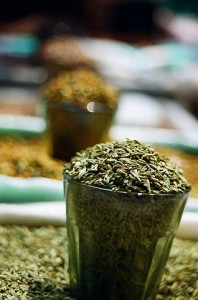 Chamomile and fennel tea
4 January, 2012
By Staff Writer
Natural Health News
A perfect tea for the winter months.
This is a soothing, anti-inflammatory infusion of herbs that is both effective and simple to make. Makes 3 servings.
BENEFITS
Both chamomile and fennel are well-know for their beneficial effect on an unsettled, bloated or acidic digestive system. It will encourage better food assimilation, help regulate the bowels and improve an over-acidic system.
INGREDIENTS
1tsp chamomile
1 tsp fennel seeds
1 tsp meadowsweet
1 tsp marshmallow root finely chopped
1 tsp yarrow
METHOD
1 Put the herbs in a large teapot
2 Boil 500ml (16 fl oz) of water and add to the teapot. Allow to infuse for 5 minutes. Drink 1 mug of the infusion 2-3 times a day
NOTE: this tea is not suitable for use during pregnancy.
Taken from Neal's Yard Remedies Cook, Brew and Blend Your Own Herbs (Dorling Kindersley). To purchase a copy or get more details see here.

Top News Stories
Keep In Touch
Please subscribe me to your newsletter mailing list. I have read the
privacy statement