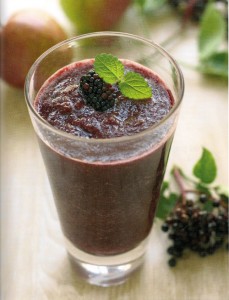 Early Autumn Rambler's Delight
24 October, 2011
By Staff Writer
Natural Health News
This is a great way to use freshly picked berries.
Elderberries and blackberries contain high levels of antioxidants that help to fight free-radical damage and enhance the immune system.
Blackberries are extremely high in phenolic compounds, which are known to be health-promoting, antiviral, and antibacterial, while elderberries contain potassium and vitamins C and E. This recipe makes 2 servings.
Benefits
Enhances resistance to colds and flu.
Ingredients
3 1/2 apples, peeled, cored, and chopped
1/3 pear peeled, cored, and chopped
12 ripe elderberries, rinsed, with all stalks removed
20 ripe blackberries, rinsed
Note: Unripe raw elderberries and elder bark should be avoided, so make sure you use completely ripe elderberries with no stalk attached to make this smoothie.
Method
Put all the ingredients into a blender or a food processor and blend until smooth and divide between two glasses.
Taken from Neal's Yard Remedies Cook, Brew and Blend Your Own Herbs (Dorling Kindersley). To purchase a copy or get more details see here.

Top News Stories
Keep In Touch
Please subscribe me to your newsletter mailing list. I have read the
privacy statement