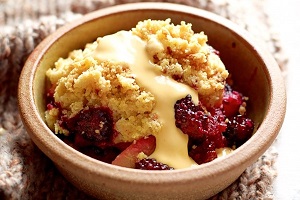 Blackberry and elderberry crumble
10 September, 2013
By Staff Writer
Natural Health News
The best time to make this crumble is when elderberries are fully ripened and blackberries are just beginning to ripen in the hedgerows.
They are both worth foraging for, as they enhance immunity, especially against colds and flu. They also have a mild diuretic action, and help maintain healthy blood vessels. Both elderberries and blackberries are a good source of antioxidant anthocyanins – the pigment responsible for their deep colour – which helps fight free-radical damage.
If elderberries are no longer in season, use blueberries instead. This recipe serves 4–6.
Ingredients
For the filling
550g (1¼lb) cooking apples, cored, peeled, and sliced
200g (7oz) fresh elderberries
250g (9oz) fresh blackberries
For the topping
150g (5½oz) plain flour
100g (3½oz) organic butter
200g (7oz) ground almonds
2 tbsp molasses sugar, or other dark brown soft sugar
50g (1¾oz) walnuts, finely chopped
Crème fraîche, to serve
Method
1 Preheat the oven to 180°C (350°F/Gas 4).
2 To make the crumble topping, place the flour in a mixing bowl, add the butter, and rub it into the flour with your fingertips. Add the ground almonds and molasses sugar and mix together well until the mixture resembles breadcrumbs. Add the chopped walnuts and mix them in well.
3 Place the apples in a large saucepan with a little water and simmer for 10 minutes over a low heat.
4 Transfer the softened apples to a large, deep baking dish and add the berries.
5 Completely cover the fruits with the crumble topping, press it down lightly,
6 Bake in the oven for 35–40 minutes or until golden on top, then serve either hot or warm with the crème fraîche.
Extracted from the book Neal's Yard Remedies Healing Foods – Eat Your Way to a Healthier Life by Susan Curtis, Pat Thomas and Dragana Vilinac (Dorling Kindersley, £16.99) which features 175 healing foods and 130 delicious recipes have been specially designed to heal from within and are easy to incorporate into your everyday routine.
Learn more about the immune boosting, and other healthful properties of elderberries here.