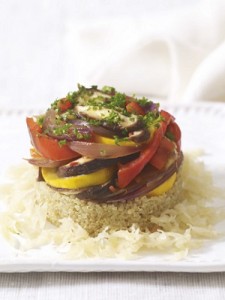 Quinoa and vegetable stack
1 May, 2013
By Susan Curtis, Pat Thomas, Dragana Vilinac
Natural Health News
Quinoa is high in protein and fibre and contains all the essential amino acids the body needs to sustain energy levels and support healthy tissue growth and repair. This recipe is also gluten-free which makes it a good choice for anyone with gluten sensitivity. Adding sauerkraut brings multiple benefits for immunity and gut health and a selection of colourful fresh vegetables add valuable nutrients.
Ingredients
5 small shallots or small red onions, finely sliced
1 medium-hot chilli, finely chopped
2 large red Romano peppers, or other red pepper, cut in half lengthways, deseeded, and sliced into 1cm (1⁄2in) strips
3 medium yellow courgettes, cut into 5mm (1⁄4in) slices
100g (31⁄2oz) shiitake mushrooms, stalks removed, sliced
2 garlic cloves, crushed
sea salt and freshly ground black pepper
2 tbsp olive oil
300g (10oz) quinoa
a sprig of parsley, chopped, to garnish
a drizzle of extra virgin olive oil
6 tbsp sauerkraut, to serve (optional)
Method
1 Pour in enough water to cover the base of a medium saucepan and heat gently. Add the shallots and cook gently with the lid on until tender, adding more water if necessary. Add the chilli and sauté gently. Add the peppers and allow to soften, then add the courgettes. Lastly, add the shiitake mushrooms and garlic, season to taste with a pinch of sea salt, stir for a minute, and drizzle in the olive oil. Stir the mixture, place the lid back on, then switch off the heat and leave the pan on the hob to keep warm.
2 Cook the quinoa according to the packet instructions, then drain and set aside.
3 When you are ready to serve the food, take a serving dish, place a large cook's ring on it, and fill with a 2.5cm (1in) layer of the quinoa. Spoon a layer of vegetables on top of the quinoa and sprinkle with some chopped parsley. Remove the ring and repeat with 3 more stacks of quinoa, vegetables, and parsley. Sprinkle the stacks with black pepper and a drizzle of extra virgin olive oil, and serve with some sauerkraut arranged around the base of the stacks.
4 If you don't have a cook's ring, use a dome-shaped small bowl brushed with olive oil. Fill the bottom half of the bowl with the vegetables, top with quinoa, place the serving dish face down on the bowl, turn both upside down, and gently remove the bowl. Sprinkle the parsley over the top, season, drizzle with the extra virgin olive oil, and serve with the sauerkraut. Serves 4.