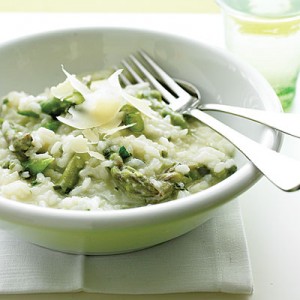 Spring vegetable risotto
28 May, 2014
By Genista Copeland
Natural Health News
The first thing I want to cook when spring finally comes is vegetable risotto.
Light but warming, this recipe is full of the taste of the vegetable patch and a doddle to make.
Even if you've never made it before, don't be scared of risotto. This is a quick tasty recipe which you can make for yourself or up to eight guests with ease. These quantities will serve four.
Ingredients
300 g (10 oz) risotto rice
100 g  3½ oz) parmesan
600 ml (20 oz) vegetable stock
50 g (1½ oz) butter
125 ml (4 oz) dry white wine
2 tbsp mascarpone
2 tbsp olive oil
20 g (approx 4 tsp) chopped chives
150 g  (5 oz) asparagus, chopped into manageable sized pieces
150 g  (5 oz) shelled broad beans
100 g (3½ oz) shelled peas
2 shallots
3 spring onions
1 garlic clove
Method
1 Start by pre cooking the rice – tip it into a pan of salted boiling water and boil for 6 minutes, then drain and set aside. This saves stirring time later!
2 Boil another pan of water and put in the asparagus for 3 minutes and then the beans and peas for 1 minute, then drain and cool under running water.
3 Chop the shallots, garlic and spring onions and fry gently in the oil and half the butter for about 5 minutes, don't let them brown. Then add the wine and simmer to reduce by half.
4 Whilst the wine is reducing, make shavings with half the parmesan and grate the rest.
5 When the wine has reduced, tip in the rice and stir well, add a ladle of stock and stir, keep doing this until the mixture is slightly sloppy and the rice is softened but with a firm centre. You may not need all the stock.
6 Stir in the vegetables and chives and then add the rest of the butter and the mascarpone. Season with salt and pepper and then serve in bowls topped with the parmesan shavings.
For an even more seasonal variation on this recipe why not try making it with spring barley rather than rice. Or try substituting a  handful of freshly picked nettle tops (wear rubber gloves for picking and roughly chopping!) to the mixture instead of chives.
Once you get the method down you'll find risotto is so versatile you can really mix and match almost any of your favourite vegetables to makes the perfect dish!
A chef of many years experience, Genista has a particular interest in cooking with the seasons and using herbs to enhance both sweet and savoury dishes all year round.