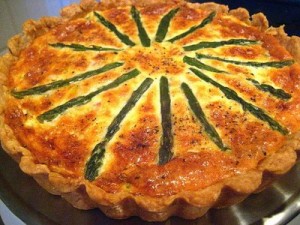 Asparagus quiche
29 May, 2013
By Genista Copeland
Natural Health News
As I write this it really feels as if summer has arrived, the air is warm, the nights are less cold and more importantly for crop growers, the soil is warm.
After a couple of weeks of staring despondently at my bare asparagus bed this weekend my asparagus chose to surprise me by shooting up and I immediately started to think of all the ways I could enjoy this fleeting crop whose British season runs from April 23rd to June 21st.
First up, asparagus with soft poached eggs or hollandaise and brown bread is a simple but very delicious way in which to enjoy asparagus and is always the first thing I do with it.
After a few days of this I start to get more inventive; I lay the spears on crisp puff pastry and drizzle them with a lemon butter sauce; I sear them on a griddle and top them with Parma ham; on a chilly night I might make them into a soup or a warm salad with some mild fresh goat's cheese.
For the weekend I'd make up a tart of asparagus and serve it with the first new potatoes and a herby green salad.
And then there's this months featured recipe – Asparagus quiche. Easy to make, wonderful to eat.
Ingredients
Ready-made shortcrust pastry (or if you are feeling ambitious you can make your own)
18 asparagus spears
350ml (11 oz) double cream
5 eggs
salt and pepper to season
a handful of grated cheddar or Parmesan
Method
1 Make or buy a shortcrust pastry base about 30cm wide.
2 Trim any woody ends fro the asparagus spears and then cut them in
half lengthways. Steam them for 2 minutes and then drain them well on a cloth.
3 Then lay the spears in the tart case in a star pattern with the ends pointing towards the middle and the tops pointing towards the outside of the case. You may need to trim some of the pieces to fit but you can use them for soup or a salad if you have a lot of excess.
4 Mix the double cream and eggs seasoned with salt and pepper. Pour the mixture into the tart. Sprinkle a handful of grated cheddar or Parmesan over  the asparagus and cream filling.
5 Cook at 170°C for 30-40 minutes until the filling is just set. Leave to cool to lukewarm before serving with a green salad.
Good for you too!
Asparagus is not just delicious it's good for you too.
It's an impressive source of the complex B vitamins needed to produce energy and maintain the nervous system.They also regulate the homocysteine levels in our blood – high levels of which are a strong risk factor for heart disease.
Asparagus also contains vitamin K – essential for strong, healthy bones. Some research suggests that a deficiency of vitamin K may be a factor in the development of Alzheimer's disease so while it's in season enjoy as much as you can.
A chef of many years experience, Genista has a particular interest in cooking with the seasons and using herbs to enhance both sweet and savoury dishes all year round.