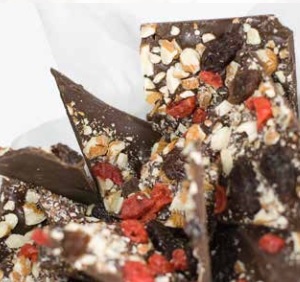 Super energy snack
28 November, 2013
By Staff Writer
Natural Health News
Most of us like a little chocolate indulgence from time to time.
While chocolate is undeniably a good food in its own right, we've come up with a way to turn it into a bonafide superfood with the addition of other amazing 'superfood ingredients'. Once you try this easy to make recipe you may never want to eat chocolate another way.
Ingredients
2 100g bars organic dark chocolate 70% cocoa
A pinch of Himalayan pink salt
2 dessert spoons goji berries
2 dessert spoons chopped mulberries
1 heaped teaspoon maca powder
1 heaped teaspoon ashwagandha powder
1 heaped teaspoon baobab powder
2 heaped teaspoons chia seeds
2 dessert spoons chopped nuts
Method
1 Using a bain marie (a pan or bowl, that sits in another larger shallow pan of warm water), slowly melt the chocolate – no need to stir until it is nearly fully melted.
2 Add all the other ingredients to the liquid chocolate
3 Pour onto a non-stick baking sheet
4 Pop in the fridge until it's set, then peel off the baking sheet and break up into pieces for a decadent yet healthy super snack
Tip: reserve some of the nuts and fruits to sprinkle on top of the melted mixture in step 3.
Did you know?
Our Super energy snack is a great as a decadent mid-afternoon treat to give mind and energy levels a super charged boost! This time of year it can also help support flagging energy levels as the holiday season progresses. Here's why it's so good – and so good for you:
Dark chocolate Contains magnesium to boost energy and tryptophan for the feel good factor!
Himalayan pink salt Pure unrefined salt containing lots of minerals from nature.
Goji berries Restores energy and vitality through its nutrient density.
Chopped mulberries Restores energy and vitality through its nutrient density.
Maca powder Reduces stress whilst building energy and stamina.
Ashwagandha powder A rejuvenative tonic used when the body needs strengthening, whether this is through overwork, stress or nervous exhaustion.
Baobab powder Contains more magnesium than spinach for ready energy.
Chia seeds Steadily releases slow-burning glucose into the bloodstream, making it a favourite with athletes for stamina.
Chopped nuts Magnesium and essential fatty acids for energy.
This recipe is available to download as a .pdf here.
Recipe copyright © Neal's Yard Remedies 2013