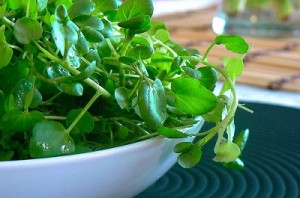 Watercress speeds recovery from intense exercise
2 October, 2012
By Staff Writer
Natural Health News
Natural Health News — Antioxidant rich watercress can help alleviate the natural stress put on our bodies by an tough workout.
Though regular moderate exercise is known to be good for us, the increased demand on our bodies is also known to cause damage to our DNA.
The small study involved 10 healthy men, aged on average of 23 years, who were asked to participate in high-level exercise on the treadmill for 8 weeks. Each man was given 85g of watercress – a small bag to consume before short bursts of intense exercise.
An eight-week study with no watercress consumption was carried out to act as a control. At the end of the study period, those who had not eaten watercress had more DNA damage than those that consumed watercress.
"What we've found" said lead researchers Dr Gareth Davison, University of Ulster's Sport and Exercise Sciences Research Institute (SESRI) is that consuming a relatively small amount of watercress each day can help raise the levels of important antioxidant vitamins which may help protect our bodies, and allow us to enjoy the rewards of keeping fit.
The study findings are published in the British Journal of Nutrition.
Exercise and free radicals
There are a lot of myths surrounding exercise and overdoing it during exercise isn't particularity healthy – it places enormous strain on muscles, can be dehydrating and stressful – an and some believe that post-exercise recovery is important to minimise any damage done by the increased volume of free radicals that intense training produces.
Exercising or training hard can speed up many metabolic processes which in turn can generate more free radicals. Free radicals are highly unstable molecules that can cause damage to muscles and to cellular DNA . Free radical damage is a risk factor for things like heart disease, diabetes, arthritis and cancer.
Oxidative stress may be one reason why we also feel sore after intense exercise and may even interfere with muscle repair after post exercise.
The body begins to heal itself from exercise stress soon after the workout ends and adequate nutrition may help this process along, which is why this current study is so interesting.
Other helpful foods
Watercress isn't the only superfood that has been shown to aid recovery from a tough workout.
Earlier this year a daily glass tomato juice, which is rich in the antioxidant lycopene, was also shown to improve recovery in healthy, normal people (as opposed elite athletes) who engage in strenuous exercise on a stationary bicycle. The juice was found to reduce the levels of free radicals in the blood post exercise.
Also early this year, a study showed that consuming just 100g of  flavonoid rich dark chocolate (70% cocoa solids)  prior to exercising could decrease the muscle damaging effects of oxidative stress.  In a 2011 study another group of researchers came to the same conclusion.
Again in 2011 researchers found that blueberries, rich in antioxidants known as anthocyanins, were also protective. The researchers gave study participants – all well trained athletes, 250g of blueberries per day for 6 weeks and 375g one hour  prior to 2.5 h of running hard. The blueberries reduced oxidative stress and increased levels of anti-inflammatory cytokines post exercise.
Animal studies show that goji berries may have the same effect, though human studies are lacking.
In an earlier study blackcurrant extract in the form of capsules was given to  10 healthy individuals comprising five males and five females aged between 37 and 63 years and of varying levels of fitness, before an intense rowing machine session.  Blackcurrant, like blueberries is rich in anthocyanins, and these were found to assist recovery and enhance immune responsiveness.
Antioxidant rich foods, according to these studies, are a must if you are intending to exercise hard. To understand a bit more about their effect see our story Antioxidants – are you getting what you need?