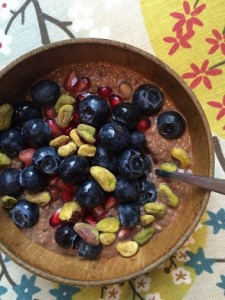 Chocolate chia seed pudding
27 November, 2014
By Staff Writer
Natural Health News
This yummy pudding has all the benefits of chia seeds with the energising and potent antioxidant power of raw cacao.
Try this with homemade oat milk for extra B vitamins and added maca powder as adaptogen support for stress and energy. Coconut flakes and blueberries combine to make this a really tasty treat or even power packed breakfast.
Ingredients
2 cups homemade oat milk
5 table spoons chia seeds
2 teaspoons maca or rhodiola powder
2 dessert spoons raw cacao powder
1-2 tablespoons of maple syrup or honey to taste
2 teaspoons vanilla paste or seeds or 1 vanilla pod.
Handful blueberries
Handful desiccated coconut
Large dessert spoon coconut cream
Method
1 Combine all ingredients in a bowl, whisk to stop the seeds sticking together.
2 Cover and leave for 15 minutes then whisk again.
3 Refrigerate overnight or at least 5-6 hours.
4 Serve with blueberries or any other berry.
Recipe © Neal's Yard Remedies


Top News Stories
Keep In Touch
Please subscribe me to your newsletter mailing list. I have read the
privacy statement