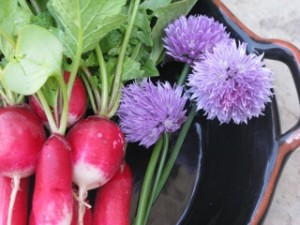 FARM TO FORK: June 2013
11 June, 2013
By Ashley Wheeler, Kate Norman & Daphne Lambert, Trill Farm
Natural Health News
After all the excitement of the weather station arriving in the post a couple of months ago it has not yet made it outside.
I have no excuse for this other than more pressing tasks requiring my attention taking precedence. So, still no weather facts to share.
Although I have been hearing a lot of people muttering and  moaning about the spring weather (as only the English know how to), the garden is looking surprisingly good.
It is a little late, but we have everything planted that should be planted so far, including all of the tender plants such as the squash, beans, courgettes and sweetcorn. The relative cold along with the dry conditions of the last month have kept the weeds relatively easy to manage with a bit of hoeing everyday and some hand weeding in between the plants.
Taking the chill off
Fleece has been a saviour this spring, not only keeping the frost off the more tender vegetables, but just as importantly, protecting the young leaves from cold winds. Windy conditions can cause untold damage to some of the less hardy plants including squash and courgettes.
We were able to fleece over the squash and courgettes as soon as they were planted and mulched. Beans share this dislike of strong winds but are more difficult to fleece when they are planted beneath bean poles. Luckily we planted in relatively calm conditions and the following few days remained settled .
Making compost…and hay
We have started collecting the vegetable peelings from River Cottage Canteen to bulk up our compost and adding old straw from the farm to ensure a good carbon content. We have also made the first cut of the comfrey that we planted last year which went straight onto the compost. Further cuts through the year will be used as a mulch around fruiting plants to provide potassium which encourages plants to flower and produce fruit.
June is the month that we sow the majority of our brassicas which will be ready to plant out in July (following on from the first batch of lettuce). We will also see the first proper harvests of chard, spring onions, broad beans, wet garlic, beetroot and hopefully some french beans and cucumbers at the end of the month.
June is also the time for making hay, which is demonstrated delightfully at the Green Scythe Fair; a celebration of traditional haymaking techniques and general traditional rural skills. We will be having a stall at the fair on the 9th June. We will also start our stall outside the Town Mill Bakery  on the following Saturday (15th June) selling the first spring vegetables along with various vegetable and herb plants.
Some simple salads
Right now there are rows of crunchy, peppery, zesty  radishes in the garden and they are delicious! These showy roots add a vibrant pink splash to loads of dishes.  Here's two easy recipes to try:
Radish, new potato and beetroot salad
Ingredients
500g (1 lb) baby new potatoes – scrubbed
16 radishes cut into quarters lengthways
2 cooked beetroot peeled and diced
chive flowers
For the dressing
2 tablespoons cider vinegar
8 tablespoons olive oil
bunch of chives finely snipped
black pepper and salt to taste
Method
1 Cook the potatoes in salted water until tender, drain and tip into a bowl.
2 Combine the dressing ingredients add to the potatoes and toss well.
3 Leave to cool before gently stirring in the beetroot and radish and scattering over the chive flowers.
Serves 4
Radish salad
2 handfuls of pea shoots
3 sticks of celery finely sliced
2 tablespoons soaked sunflower seeds
16 radishes sliced
For the dressing
1 teaspoon grated ginger
1 teaspoon honey
2 tablespoons lemon juice
6 tablespoons olive oil
Method
1 Combine all the dressing ingredients and mix well together.
2 Toss the remaining ingredients well in the dressing and divide between 2 bowls.
Serves 2
Trill Farm Garden is a three-acre plot on the farm managed organically by Ashley Wheeler and Kate Norman.  The garden supplies Trill Farm – which is owned by Neal's Yard Remedies founder Romy Fraser – as well as local restaurants and Ash & Kate's market stall in Lyme Regis. Daphne Lambert runs the farm's kitchen turning seasonal produce into delicious meals.