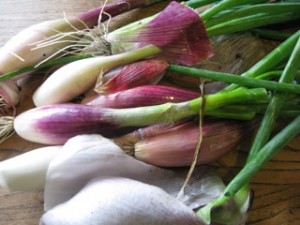 Shallot tarte tatin
2 September, 2013
By Daphne Lambert, Trill Farm
Natural Health News
This sticky, rich delicious tarte tatin is one of my most favourite shallot recipes.
There's a fantastic crop of sweet flavoured, red tinged shallots in the garden at Trill Farm right now and this is one of the most delicious ways to use them up.
Ingredients
90 g (3 oz) unsalted butter
720 g (1½ lb) shallots, peeled keeping the shallot intact at the root end
1 tablespoon honey
Splash of balsamic vinegar
3 tablespoons vegetable stock
salt and black pepper
360 g (12 oz) puff pastry
Method
1 Melt the butter in a 22cm oven proof frying pan. Add the shallots and cook gently for 10-15 mins until softened and lightly coloured.
2 Stir in the vinegar, stock and honey, place the pan in the oven 200C/180C fan/gas 6.for 10 minutes.
3 Roll out the pastry until it's big enough to cut out a roughly 24 cm circle, place over the shallots tucking the edges down the inside of the pan.
4 Bake for 25 minutes or until the pastry is golden. Leave the tart to settle for a few minutes before turning out.
Daphne Lambert is a nutritionist and medical chef who runs the kitchen at  Trill Farm – which is owned by Neal's Yard Remedies founder Romy Fraser
See also her website  Green Cuisine.

Top News Stories
Keep In Touch
Please subscribe me to your newsletter mailing list. I have read the
privacy statement