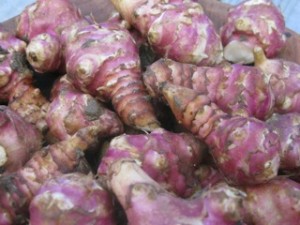 FARM TO FORK: November 2012
19 November, 2012
By Ashley Wheeler, Kate Norman & Daphne Lambert, Trill Farm
Natural Health News
A little later than usual, due to the sheer pressure of work to be done on the farm this time of year, here's the latest update and great organic recipes from our friends at Trill Farm.
October saw the change around of the tunnel crops, with all of the summer fruiting tomatoes, cucumbers and beans being taken out and composted to make space for the winter salads and herbs.
The coriander, chervil and parsley all benefit from being protected from the wind and wet during winter, although in a dryish winter they can survive outside and yield well in early spring.
Winter salads
We grow almost 20 different salad leaves over winter in the polytunnels. These are largely oriental leaves such as different mustards, mizuna, rocket but also land cress, claytonia, leaf radish, red Russian kale and some winter lettuce varieties.
We also plant a few over-wintering spring onions and garlic in the tunnels to get a slightly earlier harvest than those grown outdoors. The remaining couple of beds in the tunnels will be planted with closely sown peas (in mid November) for pea shoots and carrots which will be sown at the end of winter for early bunching carrots.
Unfortunately October was too wet to cultivate for garlic planting, however, we have managed to plant about half of it so far by clearing the beds by hand. We have yet to sow broad beans too, but these should be in by the end of November.
Thankfully Jerusalem artichokes like a moist soil and have produced a wonderful crop this year, as have the parsnips. Parsnips are renowned for taking a long time to germinate. We sow the parsnips in May with rows of radish, so when the radish are ready for harvesting the parsnips are just beginning to germinate.
Sowing at this time usually minimises the chance of the parsnips getting canker; a fungal disease manifesting itself as an orange coloured marking on the skin of the parsnip.
Keeping it local
As winter approaches our minds start drifting towards next year and the improvements that we can make on this seasons growing.
Being a small scale producer it is very difficult to cultivate some of the main crop vegetables such as potatoes, carrots and onions at a competitive price as most of the work is done by hand and so takes many more man hours than if growing on a larger scale with the use of more machinery.
We are therefore planning to cut down on producing quite so many of the main crop vegetables and concentrate more on producing more of the vegetables where freshness really shows such as the leafy crops, salads and herbs.
We currently sell all of our vegetables within 5 miles of the farm and so we can provide truly fresh produce (picked on the day of delivery for salads and herbs) that other larger scale producers cannot do so well.
So, rather than taking the expansionist approach of cultivating more land to grow more main crops (and compromising the quality and freshness) we will endeavour to continue to grow and sell very fresh vegetables. We do however still believe that a wide variety of different vegetables should be grown, not only to fit in with the practice of long rotations, but also to improve resilience against pests, diseases and the inclement weather conditions such as those that we have experienced this year.
Into the kitchen
As ever there is an abundant crop of Jerusalem artichokes in the garden. You either love them or hate them fortunately I love them – here is my favourite soup.
Artichoke soup
Serves 4
Ingredients
900 g (2 lb)  Jerusalem artichokes – scrubbed, peeled if you prefer, and roughly cubed
2 onions peeled and chopped
2 carrots roughly chopped
1 clove of garlic chopped
1 sage leaf
1 bay leaf
1.5 litres (2½ pints) vegetable stock
Method
1 Put all the ingredients into a large saucepan and simmer until the vegetables are soft about 30 minutes.
2 Blend the soup in a food processor until smooth.
I leave the bay and sage in the soup but if your blender is not very powerful you may prefer to remove them. Return the soup to the pan and season well , heat through and pour into bowls. Served with a dollop of harissa (see below) it is quite divine.
Harissa
Plenty of chillies this year so it's really worth making harissa – it keeps you warm in the cold winter months.
Ingredients
10 finely chopped red chillies
2 shallots finely chopped
2 cloves garlic finely chopped
2 tablespoons olive oil
3 red peppers deseeded, roast and skinned red peppers
1 tablespoon toasted cumin seeds
 Method
1 Gently cook the chillies, shallots and garlic in the olive oil for 5 minutes
2 In a pestle and mortar grind the cumin and slowly work in the chilli mixture along with the peppers until you have a well mixed paste.
Stores well in the fridge for about 6 weeks.
Trill Farm Garden is a three-acre plot on the farm managed organically by Ashley Wheeler and Kate Norman.  The garden supplies Trill Farm – which is owned by Neal's Yard Remedies founder Romy Fraser – as well as local restaurants and Ash & Kate's market stall in Lyme Regis. Daphne Lambert runs the farm's kitchen turning seasonal produce into delicious meals.