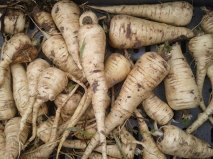 FARM TO FORK: December 2012
17 December, 2012
By Ashley Wheeler, Kate Norman & Daphne Lambert, Trill Farm
Natural Health News
With all our crazy weather it's been quite a challenging time on the farm this year. Here's 2012's last update and two great organic recipes from our friends at Trill Farm.
December is often a rather quiet month for us, because although restaurants get busy again around Christmas we grow very few winter vegetable varieties.
This is for a few reasons. Firstly much of the winter veg such as brassicas takes up a relatively large growing area for a small return. Secondly, the garden is poorly draining clay, so during winter is often very saturated and not particularly well liked by vegetables.
Finally, growing more varieties during the summer, which is when there is a higher demand by our customers, means that we can afford to slow down during the winter months.
Here piggy, piggy…
So, I am writing this after spending nearly two hours attempting to shepherd our pigs into the livestock trailer. Having got the 4×4 and trailer skidding about as soon as I reversed through the gate of the garden, I had no option other than to leave it about 80 metres away from the pig ark.
I needed to load the pigs into the trailer so that I could take them to the abattoir. So, I thought I would use the same technique that I had previously used when moving them about; shake a bucket of food and whistle to them whilst slowly picking up speed as I made my way towards the trailer with the three pigs in pursuit.
However, this time they were less obedient, and though we did make it to the trailer after some time, they were unwilling to scale the ramp. With the help of three other workers on the farm and Kate (with Digby sound asleep in the van) we attempted to coax the pigs up the ramp using various techniques.
At one stage we had one pig in the trailer whilst another was on the very top of the manure heap. At another point Kate literally ran the whole perimeter of the garden with the pigs following her and ended up back at the sticking point of the ramp. Finally, with the use of some hazel hurdles for boards and much patience the pigs made their way into the trailer and all was well.
A month for planning
December has been a month for planning and I have had a chance to make a whole new sowing schedule and planting plan for next year in response to this years failings. All of next years seeds have been ordered and most have arrived.
January is an even quieter month, as most of our restaurant customers close and so we will be doing very little work in the garden. Though I am very much looking forward to the Oxford Real Farming Conference and also being involved in the launch of a UK branch of Via Campesina, which is all about supporting the rights of small scale farmers and producers across the world. So perhaps that will provide some content for next months update.
Into the kitchen…
Ash & Kate had a good crop of parsnips this year. These ivory coloured roots have a sweet nutty flavour and work really well in soups and stews.
Parsnip Curry
Ingredients
1 kilo (2.2 lbs) parsnips, washed, peeled and cut into 1cm cubes
1 pint (16 fl oz) vegetable stock
1 tablespoon tamari
4 kaffir lime leaves
1 dessert spoons honey
coriander leaves, chopped
For the red curry paste
4 red hot chilli
4 garlic cloves
2 lemon grass stalks, thinly sliced
5cm (2in) cube of ginger, grated
2 red onions, roughly chopped 340ml
2 dessert-spoons coriander seeds,
1/2 teaspoon salt
1 tablespoon olive oil
Method
1 First make the red curry paste simply by blending all ingredients in a food processor.
2 Mix the oil and red curry paste together in a large pan cook for a few seconds, stirring constantly, then add the parsnips, still stirring constantly until they are well coated with the paste and starting to soften.
3 Pour over the stock and the soy sauce. Add the lime leaves and honey Simmer until the parsnip is just soft but retain a little bite.
Serve over rice with lots of chopped coriander leaves on top. Serves 4.
Cider braised root vegetables
Ingredients
2 carrots peeled & diced
2 parsnips peeled & diced
2 red onions peeled & diced
2 tablespoons olive oil
1 apple quartered cored & diced
125 ml (4 fl oz) dry cider
125 ml (4 fl oz) vegetable stock
Salt & black pepper
Method
1 Gently cook the carrot, parsnip, & red onions in olive oil with equal amount of water until the water has evaporated and the vegetables are just softening.
2 Add the apple, toss well then add the cider & stock.
3 Continue to cook until the liquid is reduced by half and season well with salt & pepper.
To serve, either in bowls with warm wholemeal bread or toss the vegetables through your favourite pasta.
Trill Farm Garden is a three-acre plot on the farm managed organically by Ashley Wheeler and Kate Norman.  The garden supplies Trill Farm – which is owned by Neal's Yard Remedies founder Romy Fraser – as well as local restaurants and Ash & Kate's market stall in Lyme Regis. Daphne Lambert runs the farm's kitchen turning seasonal produce into delicious meals.