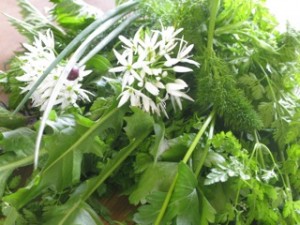 FARM TO FORK: May 2013
15 May, 2013
By Ashley Wheeler, Kate Norman & Daphne Lambert, Trill Farm
Natural Health News
More news from Trill organic farm in Devon, including important information on the EU's proposed ban on heritage seeds – and a delicious seasonal spring barley risotto from Daphne's kitchen.
Cultivation and planting began in earnest during the dry conditions of April.
We have so far kept up to date with plantings and sowings. Over 3000 lettuce plants have been planted outside for the first batch of outdoor salad – which we are just starting to harvest (whilst the second batch is currently being pricked out). A few more thousand beetroot and chard plants, thousands of peas and broad beans about 500 metres of radish, along with carrots, salsify, turnips, spinach and thousands of spring onions have all been sown and planted.
We are waiting for the last pickings of purple sprouting (which have been a true delight – perhaps even more so this year as so many plants died or suffered beyond belief due to the wet) before planting all of the shallots and onions.
All of the salad in the tunnels is now starting to bolt.  I have noticed all sorts of insect life on the chervil flowers, and we intend to keep strips of the flowering herbs and salads along the centre of the beds in the tunnel and plant around them with the tomatoes, cucumbers, beans and peppers.
Beneficial insects
This will ensure a good habitat and population of beneficial insects such as parasitic wasps and hoverflies which help to keep pests such as aphids at manageable levels. The planting of tomatoes and the like will start after our big bank holiday salad orders have been picked, when we will start pulling out the overwintered salad plants.
We have started sowing all of our squash, runner beans, french beans, drying beans, courgettes and sweetcorn. These will be ready to plant out at the end of the month, by which time almost all of the cultivated land in the garden will be planted.
The weather is set to change from the sunny dry conditions that we have been getting used to of late to wetter and windier conditions. We have made sure all of the plants that require planting out and all of the direct sowings that need to be made have been completed, so that the rain can settle them all in and we can then get to work in the tunnels whilst it is raining – hopefully not all year this year.
The day of Thatcher's funeral coincided with the International Day of Peasant Struggle, along with the day that a group of smallholders and small scale growers and farmers were accepted as members of the European Coordination of the worldwide organisation of Via Campesina.
The group will be called The Landworkers Alliance and will, much like the international organisation, campaign for the rights of small scale fisherfolk and producers of food and fibre.
Save our seeds!
Our first concern has been the vote for the new EU seed law which is suggesting a ban on all rare, heritage, unregistered varieties of seed by stopping any selling or exchanging of such traditional seed.
This would suit the seed industry which produce most of the seed for large scale agriculture and horticulture. To register seed it must undergo various tests and fit criteria which mainly only modern hybrids conform to, so most heritage varieties would be unregisterable and therefore illegal to grow and consequently lost.
There would of course be huge implications if this law were to be implemented, including the obvious loss of seed diversity, along with the complete control of agricultural and horticultural seeds by large scale seed producers, taking food production out of the hands of the farmers and growers.
This means that farmers and growers would be at the mercy of the seed industry rather than being able to take control of their own seed by saving seed of traditional varieties.
Traditional seed saving by farmers and growers results in varieties of seed which are suited to certain soil types and local climates as they are grown and selected each year by the same farmer on the same farm. It allows the farmer to select certain crop characteristics which are suited to his/her farming system rather than being only suitable for large scale agriculture, which is the case for many of the modern hybrid seed varieties.
It would obviously be a massive tragedy if this law was enforced, but perhaps the backlash would be a thriving underground buzz of seed savers and swappers (for more on this topic and to find out how you can add your voice to the protests see also Open Source Seeds website).
And in the kitchen
Spring herbs are everywhere, in the woods, along the hedges and in the garden. The barley we grow at Trill is plump and soft, the fresh, vibrant flavours of the herbs are the perfect foil to the creamy barley.
Trill Spring Barley Risotto
Ingredients
2 onions finely diced
2 tablespoons light olive oil
1 litre (2 pints) vegetable stock
200ml (6 ½ oz) white wine
300g (10 oz)  Trill lightly pearled barley soaked over night
Large handful wild garlic finely shredded
Large handful watercress roughly chopped
Handful blanched dandelion leaves and roughly chopped
handful blanched nettle leaves and roughly chopped
handful wild fennel chopped
Small bunch of fresh chives snipped
small bunch of chervil
small bunch parsley
zest of a lemon
30g (1 oz) Pecorino shavings
Method
1 Gently cook the onions in the olive oil, add the drained barley and cook for 1 minute, add the wine and reduce by half.
2 Tip in the stock and bring to the boil, simmer very gently 45 – 60mins until soft and creamy adding more stock if necessary.
3 Stir in the wild garlic, watercress, nettles,dandelions, chives and fennel, heat through and tip into a warm dish.
4 Scatter the parsley, chervil, lemon zest and Pecorino shavings over the top and serve.
Trill Farm Garden is a three-acre plot on the farm managed organically by Ashley Wheeler and Kate Norman.  The garden supplies Trill Farm – which is owned by Neal's Yard Remedies founder Romy Fraser – as well as local restaurants and Ash & Kate's market stall in Lyme Regis. Daphne Lambert runs the farm's kitchen turning seasonal produce into delicious meals.