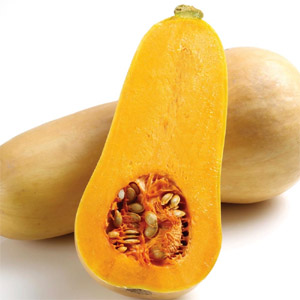 Roasted butternut squash soup
30 September, 2013
By Genista Copeland
Natural Health News
Like it or not, autumn is here and in the kitchen it's time to start thinking about soups and heartier food. Squashes are the thing to look out for this month, they are cheap and plentiful at this time of year.
Their bright orange flesh gives you a clue to their healthful properties. They are full of antioxidants like beta carotene, that amongst other things help support a healthy gut and can help protect your heart.
This recipe uses butternut squash. Of course, you can use any squash you like, but butternut will give you a very smooth silky texture.
Ingredients
1 medium/large butternut squash
1 small chopped onion
50ml oil
8 finely chopped sage leaves
2 tsp salt
1 tsp black pepper
1 garlic clove – crushed
1 litre vegetable stock
Like it spicy? Add a pinch of chilli as well!
Method
1 Chop the squash into quarters and roast for 30-40minutes until golden brown and soft. Leave to cool and then take off the skin – easier than trying to do it when raw!
2 Fry the onion until soft but not brown, then add the squash, sage, salt, pepper and garlic (and if you are using it, the chilli).
3 Pour in the vegetable stock and simmer for 20mins.
4 Take off the heat and liquidise in a blender or food processor, adjust the seasoning and consistency to taste.
This is a very smooth silky soup that is quite rich so best served in smallish bowls.
If you want to take it up a notch, deep fry some sage leaves for a garnish and serve with walnut bread to enhance the nutty flavour of the squash. If you like Thai flavours use the chilli and substitute 1/3 of the stock for coconut milk.
Want more ideas for using squashes?
For a simple supper dish cut squash into chunks, drizzle with oil, sprinkle with smoked paprika and roast for 30minutes or so until soft and golden brown. Serve scattered with crumbled feta or goats cheese. Alternatively dress it with yoghurt and thyme leaves.
Squashes love spices! Being mainly water they have the ability to absorb flavours really well and so make a great ingredient for a curry. Try squash with lentils, onions and spinach served with brown rice for a tasty and nutritious meal.
A chef of many years experience, Genista has a particular interest in cooking with the seasons and using herbs to enhance both sweet and savoury dishes all year round.