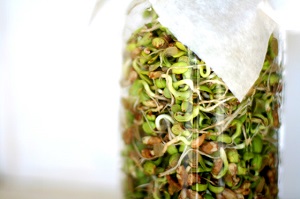 The health benefits of sprouted grains
2 June, 2015
By Staff Writer
Natural Health News
We all know that getting more wholegrains in our diets is a good thing.
But did you know that there is a way to get even more of wholegrains – by sprouting them?
With the increasing demand for food with health benefits, high nutritional value foods (sometimes called 'superfoods') are on everyone's radar and sprouted grains fit the bill nicely.
What we think of as "grains"—such wheat, oats, barley—are actually the mature, dormant seeds of cereal grasses. Just like any other seed, under the right conditions of temperature and moisture, these seeds can germinate and grow into young plants. In fact, this is just what wheatgrass and barley grass are: young but fully-sprouted wheat and barley grains that have not yet matured enough to form grains of their own.
What you need to know
» Sprouted grains are nutritionally superior to regular grains
» They are easier to digest and may also be less allergenic
» Some evidence suggests they have a role to play in health and disease prevention
» You don't need expensive equipment to sprout grains in your own home.
Better nutrition
Sprouting revvs up the nutritional value of the grain and has other benefits besides. These include:
Research is beginning to demonstrate the nutritional potential of sprouted grains, and even their usefulness in certain diseases.
For instance a new study just out has found that sprouted buckwheat has better nutritional value than unsprouted buckwheat. Sprouted over 72 hours the levels of antioxidant phenolic compounds, such as rutin, vitexin, isovitexin, orientin, isoorientin, chlorogenic acid, trans-3-hydroxycinnamic acid, and p-hydroxybenzoic acid increased significantly.
The germinated seeds, said the researchers, could help in the prevention and treatment of various human diseases, but could also be helpful in improving the development of active components for functional food products and pharmaceuticals.
Protection from disease
If that sounds far-fetched consider these studies:
Lower blood pressure
Animal research from Korea showed that when researchers fed raw buckwheat extract and germinated buckwheat extract to hypertensive rats for five weeks the animals fed the germinated buckwheat had lower systolic blood pressure, while both groups exhibited significantly reduced oxidative damage in aortic endothelial cells. The scientists concluded that "these results suggest that germinated buckwheat extra has an atihypertensive effect and may protect arterial endothelial cells from oxidative stress."

Better blood sugar control
In a small study from Japan 6 men and 5 women with impaired fasting glucose (pre-diabetes) or type 2 diabetes were randomly assigned to eat either white rice or sprouted brown rice three times a day. After a two-week 'washout', subjects switched groups. Researchers reported that "blood concentrations of fasting blood glucose, fructosamine, serum total cholesterol and traicylglycerol were favorably improved on the sprouted brown rice diet but not on the white rice diet" suggesting that diets including sprouted brown rice may help control blood sugar.
Reduced heart disease risk
In another Korean study, rats on a high-cholesterol diet were divided into four groups, a control group and three experimental groups which were fed either sprouted giant embryonic rice (rice is rice with a larger germ than normal), or giant embryonic rice, or conventional brown rice.  The sprouted rice diet saw a rise in their plasma HDL-cholesterol ("good cholesterol") and other markers that led researchers to conclude that "consumption of germinated giant embryonic rice is effective in lowering atherosclerosis cardiovascular disease risk."
Better for breastfeeding mums
In a 2007 study 41 breast-feeding Japanese mothers were randomly divided into two groups, one eating white rice and the other sprouted brown rice, for two weeks.  When psychological and immune tests were administered to both groups, the sprouted brown rice group was found to have decreased feelings of depression, anger-hostility, and fatigue, and a significant increase in s-igA levels, indicating better immune system function.
Protects Against Fatty Liver
Fatty liver disease, like alcohol-induced cyrrhosis, can lead to terminal liver failure, and it's increasing, as it often goes hand in hand with type-2 diabetes. An animal study found that buckwheat sprouted for 48 hours developed "potent anti-fatty liver activities" that significantly reduced fatty liver in mice after 8 weeks. Scientists found that sprouting the buckwheat increased the concentration of rutin tenfold, and also increased quercitin, both of which are known for their anti-inflammatory effects.
Dry or Wet?
Companies making sprouted grain products currently use two different approaches – dry and wet – once the grains are sprouted.
Most health food shops stock sprouted grain flours. Baking with these requires some adjustment because the sprouting process reduces the gluten content.
Sprouted flour are great for sourdough bread. You can also directly replace unsprouted flours with sprouted for cakes, cookies and muffins. Depending on the recipe you may find that you need to add a touch more liquid.
For breads, you need to add more liquid. Start by adding 2-3 tablespoons. If your recipe is still dry, add a spoon extra at a time.
If you're using a bread machine recipe increase the water called for by 120 ml (¼ cup) for kilo (roughly 4-5 cups) of flour, 45 ml (3 tbl) for less than 4 cups of flour.
Some commercial brands mash the wet, sprouted grains into a thick purée which is used to make breads, tortillas, muffins and other products. These products are often described as "flourless" and are frequently sold frozen. You can do the same things with grains you have sprouted at home and have the added guarantee of known how fresh they are.
How to sprout yourself
You can sprout any kind of whole grains – amaranth, (unhulled) barley, buckwheat, corn, einkorn, farro, kamut, millet, quinoa, wheat berries, rice, rye berries, sorghum, spelt and any other kind of whole grain. The most important thing is that the grain be whole grains, with the germ and bran intact.
First soak your grains overnight in water
The Basic Sprouting Process
The grains are first soaked in water to increase the moisture content and deactivate the phytic acid. Although they won't sprout during this time, in the morning they will be soft enough to be blended into plant-based milks or smoothies
To sprout them rinse the soaked grains well, drain and place inside a large jar – allow room for growth. You can buy special sprouting jars – they're not too expensive but you can also just use any clean jar and cover the opening with a muslin cloth secured with a rubber band. Watch the moisture levels in the jar- the grains should be moist but not wet.  Your grains should sprout in anywhere from 1-5 days (each type grain is different). The sprouted grains can then be eaten raw, lightly cooked, or ground into flour.