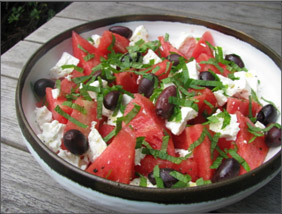 Watermelon, feta and olive salad
31 July, 2013
By Anna Colquhoun
Natural Health News
 Nothing says summer quite like sweet watermelon.
This is one of my favourite summer salads. So simple, so easy, so beautiful and so delicious!  This recipe serves  8-10 people  so is great to whip up for a picnic or family lunch in the garden.

 Ingredients
approx half a medium-large watermelon
approx 400g (13 ½ oz) best quality Greek Feta cheese
approx 150g  (5 oz) pitted black Kalamata olives, drained from their brine
leaves from 6 sprigs of fresh mint, washed and dried
coarse salt
freshly ground black pepper
extra virgin olive oil
Method
1 Slice melon into segments, cut flesh from rind and cut into chunky triangular wedges.  Remove seeds if you wish, and scatter over a wide platter.
2 Roughly crumble Feta over melon, then sprinkle with coarse salt and pepper.  Scatter over olives.
3 Stack mint leaves together, roll up like a cigar, and slice into thin ribbons to garnish the salad. Finish with a generous drizzle of extra virgin oil all over and serve. Delicious.
Anna Colquhoun is a food anthropologist and professional cook. She offers a range of cooking classes and a monthly supperclub in her beautiful London kitchen. Check out her website for details of upcoming classes and to sign up for her newsletter to receive supperclub dates.

Top News Stories
Keep In Touch
Please subscribe me to your newsletter mailing list. I have read the
privacy statement