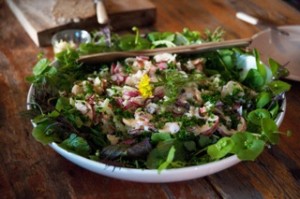 FROM FARM TO FORK: January 2012
12 January, 2012
By Ashley Wheeler, Kate Norman & Daphne Lambert, Trill Farm
Natural Health News
Even in the depths of winter, the garden at Trill Farm, Devon is producing healthy organic food for the table.
In this latest instalment, the mild weather has been a mixed blessing, and as Ashley and Kate contemplate their seed orders for the next round of planting, Daphne offers up two delicious seasonal recipes to try.
From the garden…
What a difference a year makes! This time last year we were putting up poly-tunnel frames with shivering hands and were used to working on frozen ground. This year however it is a surprise to see a frost in the morning and have still only had a handful, with the lowest temperature being -4 ºC (25 ºF), compared to lows of -12 ºC (10 ºF) last winter.
Perhaps we have all that to look forward to – winter does tend to drag on as a grower or gardener. The turn of the year always brings excitement as the seed orders are completed and planning for the year ahead is finalised. Realistically though, seed sowing doesn't start for us until mid-February.
So we have to curb our enthusiasm and get on with the jobs that we don't have time to do during the rest of the year. Cutting bean poles, sorting out our new solar panel shed, cleaning the propagation tunnel, servicing machinery and the like are all on the to-do list.
As the mild weather continues so does leaf production of the salad plants in the tunnel and purple sprouting broccoli has started to sprout too. Our autumn sown broad beans germinated whilst we were away, but were also plucked from the ground by birds. There are plenty of other opportunities for re-sowing, but it is always frustrating when pests win the battle!
On a plus note, and an update on our pigs – we have chorizo, salami and cured loins (Spanish lomo style) hanging in the back of our van!
To the kitchen…
Here's my favourite Winter dressing that I have been using abundantly on Ash & Kate's wonderful variety of green leaves still growing in the tunnels.  There are still plenty of  stored root vegetables to turn into soups one of my favourites are Jerusalem artichokes, they are easy to grow, cheap to buy and make a delicious, simple soup
Fig balsamic dressing
Ingredients
10 soaked figs (plus soak water)
45 g (1 ½ fl oz)  balsamic vinegar
175 g (6 fl oz) olive oil
¼ small fresh chilli
½ ts salt
1 tsp lemon juice
¼ tsp black pepper
Method
Blend until smooth, adding soak water if necessary. Keeps well in the fridge for a week
Artichoke soup
Ingredients
900g (2 lb) Jerusalem artichokes, peeled and roughly cubed
2 onions, peeled and chopped
2 carrots, roughly chopped
1 clove of garlic, chopped
3 sage leaves
1 bay leaf
1.25 litres (2  pints)  vegetable stock
Method
Put all the ingredients into a large saucepan and simmer until the vegetables are soft about 30 minutes.
1 Blend in a food processor until smooth. You can remove the sage & bay leaves if you prefer – I always leave them in.
2 Return to the pan, warm through & season well with black pepper
3 Pour into bowls.
Delicious with chopped toasted almonds on top. Serves 4.
Trill Farm Garden, is a three-acre plot on the farm managed organically by Ashley Wheeler and Kate Norman.  The garden supplies Trill Farm as well as local restaurants and Ash & Kate's market stall in Lyme Regis. Daphne Lambert, whose recipes can be found on this site, works in the farm's kitchen turning seasonal produce into delicious meals.