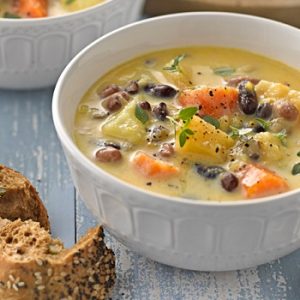 Winter roots and beans soup
21 February, 2018
By Staff Writer
Natural Health News
This homemade soup is packed with nutrients, offering three servings of vegetables, plenty of fibre, and more than a third of your daily intake for most vitamins and minerals per bowl.
You can prepare it in under an hour and it serves 4.
Ingredients
2 tsp olive oil
2 cloves garlic, crushed
1 small onion, finely diced
1 medium swede, peeled and chopped into chunks
3 large carrots, peeled and chopped into chunks
1 medium parsnip, peeled and chopped into chunks
4 sprigs thyme, stalks removed
850ml (30 0z) low sodium vegetable stock
550ml (19 0z) semi-skimmed milk
2 x 400g (14 oz) cans mixed beans
Pinch of ground black pepper
1 medium wholemeal or granary
French baguette
Method
1 Heat the oil in a large saucepan then add the garlic and onion, frying over a medium heat for 5 minutes or until soft but not coloured.
2 Add the prepared swede, carrot, parsnip and sprigs of thyme, then stir to combine.
3 Add the stock and milk, bring to the boil then simmer for 15 to 20 minutes until the vegetables are tender.
4 While the vegetables are cooking, drain the canned mixed beans into a colander and rinse.
5 When the vegetables are tender, remove from the heat and put one-third into a food processor or blender, then blend until smooth.
6 Return the blended mixture to the pan, add the beans, stir and warm through over a low heat.
7 Season the soup with black pepper to taste.
8 Serve the soup in bowls with half of the French baguette per person.
Recipe © The Vegetarian Society