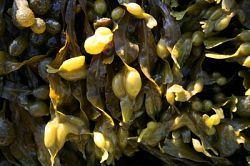 Bread made with seaweed may help reduce appetite
22 March, 2012
By Staff Writer
Natural Health News
Natural Health News — Substituting seaweed for salt in bread could reap health benefits, according to UK researchers.
A study by the Centre for Food Innovation at Sheffield Hallam University found that participants who ate bread enriched with the Ascophyllum nodosum – a common, edible  brown seaweed  – were less hungry and consumed fewer calories than when they ate a normal 'control' bread in an identical test a week later.
Reduced appetite
The  study tested the effect of  the seaweed-enriched bread eaten at breakfast time on energy intake at lunch time in 12 overweight, but otherwise healthy males.
Over the course of the morning, blood glucose and blood cholesterol were measured, along with ratings of hunger and fullness.
At lunch time, participants were provided with a meal consisting of pasta and a tomato-based sauce, and researchers weighed how much they ate.
After  consuming the seaweed enriched bread, participants consumed significantly less energy (178kcal) at lunch time, than when they consumed the control bread.  A daily energy deficit of around 100kcal may help prevent weight gain.
The A. nodosum was supplied by the company Seagreens®. The study which was supported by the Seaweed Health Foundation, appears in the journal Appetite.
Healthy fibre
According to the researchers the reduced energy intake caused by eating seaweed-enriched bread may be helpful in weight management.
Energy intake was also reduced over the following 24 hours but there were no significant differences in blood glucose or blood cholesterol at any time point suggesting that the seaweed acted as a bulking agent, increasing gastric stretch to a greater extent than the control bread.
Lecturer in nutrition Anna Hall, who led the study, said : "This study shows that in the short term, consumption of this bread reduces energy intake, which in the long term may contribute to weight loss or weight management. We hope to undertake long-term trials, which are needed in order to potentially produce such results."
Dr Craig Rose from the Seaweed Health Foundation,  added: "Seaweed for food and health is a rapidly emerging trend, with multiple benefits from a sustainable and underutilised resource."
A traditional ingredient
This was a very small study so it is hard to draw firm conclusions from it. However including seaweed in the diet is nothing new.
Seaweed is a rich source of dietary minerals particularly iodine and iron. It is easy to make your own seaweed bread. Start with a regular bread recipe. Grind or powder dried seaweed adding around 20g for every 400g of wholewheat flour (you may have to experiment to suit your taste). Do not add salt.
Seaweeds are seasonal plants. If fresh is not available dried powder as suggested above is a good option.
Note: The company Viridian makes a supplement Organic Soul Food Greens (available in vegicaps and powder form through Neal's Yard Remedies shops and online) that includes Seagreens®  wild wrack along with other healthful green foods. You can add the powder to a variety of foods including bread mixes.
Dulse bread
If you are in the mood for something a bit more challenging try Dulse Bread.
In this recipe by Gavin Galvin (courtesy the Irish Seaweeds website), Palmaria palmata (Linnaeus) Kuntze, also known as dulse, is folded into a yeast free bread.
Ingredients
25g  (1 oz) dulse, finely chopped (preferably in a blender or food processor)
4 eggs
1 large carrot, grated
50g (2 oz) caster sugar
110g (4 oz) melted butter
250g (8 oz) flour (sieved)
1 1/2 tsp baking powder
Method
1 Preheat the oven to 140°C/gas mark 1
2 Place the chopped dulse into a sieve and soak in a bowl of water for 5-10 minutes, before patting it dry
3 Brush the inside of a loaf tin with a little butter
4 Put the eggs, dulse, carrot, sugar, butter and a pinch of salt into a bowl and mix
5 Fold in the flour and baking powder
6 Fill the tin with the mixture and bake for 40-50 minutes. The check with a skewer – it should come out clean
7 Allow to cool before turning out and slicing
For further seaweed suggestions see also Celtnet, a web anthology of traditional British recipes.