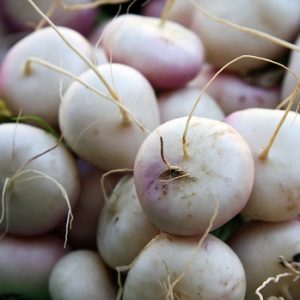 Scientists sing the nutritional praises of white veggies
21 May, 2013
By Staff Writer
Natural Health News
Natural Health News — Potatoes and other white vegetables are just as important to a healthy diet as their colorful cousins in the produce aisle, according to the authors of a new scientific report
Although green, red and orange veggies are often promoted as top nutrient sources, white vegetables are nutrient powerhouses in their own right and deserve a place on your plate say the scientists who produced the special supplement entitled 'White Vegetables: A Forgotten Source of Nutrients' in the journal Advances in Nutrition.
"It's recommended that the variety of fruits and vegetables consumed daily should include dark green and orange vegetables, but no such recommendation exists for white vegetables, even though they are rich in fiber, potassium and magnesium," says the supplement's editor Connie Weaver, PhD, distinguished professor of nutrition science at Purdue University.
Just eat more
"Overall, Americans are not eating enough vegetables, and promoting white vegetables, some of which are common and affordable, may be a pathway to increasing vegetable consumption in general."
The collection of nine papers by leading nutrition scientists explore the state of the science on white vegetables in supporting a healthy diet.
The supplement authors identify a substantial body of evidence that demonstrates how the inclusion of white vegetables, such as potatoes, can increase intake of shortfall nutrients, notably fiber, potassium and magnesium, as well as help increase overall vegetable consumption among children, teens and adults.
Don't judge a vegetable by its colour
Colour, they say, does not necessarily predict nutritive value of a vegetable. In fact, white vegetables, including nutrient-dense potatoes, contribute important amounts of essential shortfall nutrients to the American diet across all age groups.
In addition, the papers detail the current and emerging science about key health benefits associated with consumption of potatoes and other white vegetables such as cauliflower, onions, mushrooms, turnips and kohlrabi.
The research evolved out of a roundtable on white vegetable nutrition supported by an unrestricted grant by the Alliance for Potato Research and Education, a not-for-profit organization dedicated to promoting potato nutrition, consumption and affordability.
Beyond potatoes
That may cause you to question the validity of nutritional claims for so-called white vegetables. While it's certainly true that dark green leafy veggies contain contains high concentrations of Vitamin K, and bright berries are packed with antioxidants and other nutrients some of our dullest-colored fruits and vegetables contain important nutrients.
While potatoes can be a source of useful nutrients, here are some of our more favourite pale foods:
White cabbage is packed with vitamins A, B, C, and K, and even calcium, iron and fibre.
Celery has some calcium and protein in addition to Vitamins A, C, and K.
White beans have as much protein and fiber as red or pink pinto beans and so is useful in helping to help to reduce cholesterol and the risk of type-2 diabetes.
Turnips are a great source of vitamin C which can help boost immunity and keep skin looking young the leafy tops which are also edible are rich in lutein, folate, calcium and vitamins.
Garlic has been shown to protect against various cancers, including breast, prostate and colon cancer. Among other vitamins and minerals, it contains vitamin C, zinc and selenium, and has antibacterial, antifungal, and antiviral properties.
White onions, are higher in fibre andiron than red onions and has a similar and infection fighting benefits to garlic.
Cauliflower is a member of the cruciferous Brassica family of vegetables, which also includes broccoli, Brussels sprouts, kale, cabbage, and bok choi. They all contain cancer-fighting phytochemicals, vitamins, minerals and fiber that are important to your health.
White asparagus contains antioxidants including phenolic acids and flavonoids (though none of the chlorophyll found in its green cousin) and is also high in essential  vitamins and minerals.
Mooli (daikon radish) is also a member of the Brassica family. It is rich in vitamin C and potassium and low in sodium and contains detoxifying and liver supporting substances.
White mushrooms may promote immune function by increasing production of antiviral and other proteins that are released by cells while seeking to protect and repair tissue. they can also be a source of vitamin D.
Of course, health benefits go out the window when you deep-fry them or slather them with butter, sour cream, cheese or sauces! So keep it fresh, raw or lightly cooked to get the most from these foods at the paler end of the nutritional rainbow.