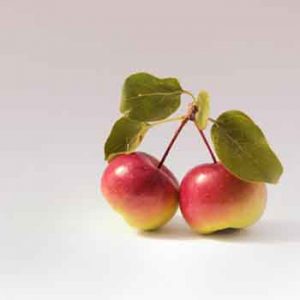 Bilberries, crabapples could help cut cholesterol
2 December, 2016
By Staff Writer
Natural Health News
Natural Health News — You're more likely to find these fruits while foraging in the woods than in the local supermarket and yet two new studies reveal that both bilberries and crabapples have properties that can help fight high cholesterol
In the first study, regular consumption of polyphenol-rich bilberries (Vaccinium myrtillus), the wild cousin of the blueberry, may significantly reduce LDL cholesterol levels, and increase HDL cholesterol levels.
The observational study, published in Nutrition Research, involved 36 healthy men and women who consumed 150g of bilberries per day for six weeks.
This 'dosage' say the European researchers, was associated with statistically significant decreases in total cholesterol levels (6%), LDL cholesterol (7%), triglycerides (27%), while HDL-cholesterol levels increased 6%, according to findings.
What you need to know
» Many wild foods have healthful properties that we have only begun to explore.
» Two recent studies have shown that both bilberries and crabapples have properties that can help the body maintain healthy cholesterol levels.
» Through supplements or by eating the fresh or dried fruits these forgotten fruits can be part of a dietary approach to reducing risk factors for cardiovascular disease.
Reducing CVD risks
Results also showed that, in addition to the blood lipid profile improvements, bilberry consumption was also associated with improvements in blood glucose levels (9%), albumin levels (5%), and gamma-glutamyltransferase levels in the liver (9%), compared to baseline levels.
"The amount of bilberries consumed by volunteers was selected to be comparable to that of other studies, taking into account the processed form used in other studies such as fresh/frozen/dried, juice, smoothie, beverages, or capsules," explained the researchers.
"The present study shows that even a short period of regular consumption of whole wild bilberries, preserved through minimal processing (frozen), is associated with an improvement of the lipid profile in humans," they add.
Their conclusion was that regular intake of bilberries can be important way to help reduce the risk of cardiovascular disease.
A traditional treatment
A second study from China used an animal model to investigate the cholesterol lowering properties of another forgotten fruit – crabapples.
The researchers point out that statins are the major therapy for high cholesterol and for the prevention of atherosclerosis. However, there is some evidence to suggest that they may increase the risk of diabetes, muscle pain, liver damage and cause other side effects.
"Therefore, new therapy is needed for the treatment of hypercholesterolaemia," wrote the researchers from Beijing, Shanghai and Chongqing universities in the Journal of Functional Foods.
Crabapples, which are small, sour wild apples, have long been used for the treatment of diarrhoea, indigestion and other digestive diseases in traditional Chinese medicine, and its antioxidant benefits have frequently been studied.
However, the constituents and functions of the fruit remain largely unknown, and there had not been any research on its cholesterol-lowering potential.
"Previous studies have suggested that the consumption of fruits may reduce the risk of cardiovascular disease, hyperlipidaemia, diabetes, and stroke, and have shown to be beneficial to obesity, bone health and so on," the researchers said.
Therefore, this study sought to evaluate the cholesterol lowering and anti-diabetic effects of crabapple extracts in obese mice fed a high fat diet, as well as looking at the crabapple's antioxidant properties in the test tube.
Three species of crabapple – M. xaojinensis, Indian Magic and M. prunifolia – were found to have a triglyceride lowering effect.
High plasma triglyceride (blood fat) levels are considered important risk factors for the development of diabetes and atherosclerosis.
Crucial enzymes
In addition, all extracts significantly lowered serum total cholesterol and low-density lipoprotein cholesterol significantly. The research team also found that the crabapple extracts raised levels of certain enzymes responsible for helping the liver to regulate cholesterol production.
They also observed that crabapple extracts had strong antioxidant properties, which accords with previous findings.
"To our knowledge, our study is the first to show that crabapples can lower lipid profiles…Our data suggest that, as a dietary supplement, the crabapples may have therapeutic effects in patients with high cholesterol levels and other metabolic disorders," they concluded.