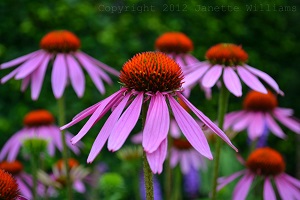 Echinacea/elderberry combo as effective as Tamiflu for influenza
22 June, 2015
By Staff Writer
Natural Health News
Natural Health News — New research suggests that a combination of echinacea herb and root extract with elderberry is as effective as the conventional antiviral medicine Tamiflu in the early treatment of influenza.
For the study researchers recruited 473 patients who had exhibited flu symptoms for less than 48 hours from 29 primary care practices in the Czech Republic. The patients were randomly assigned to take Echinaforce® Hotdrink syrup – a beverage containing an alcoholic extract prepared from freshly harvested echinacea (Echinacea purpurea) herb and root (95% herb; 5% root) supplemented with European elderberry (Sambucus nigra), for 10 days, or oseltamivir (Tamiflu) for five days followed by placebo for five days.
What you need to know
» Czech researchers compared the medicinal effect of an echinacea root/herb and elderberry combination against the conventional flue remedy Tamiflu in two groups.
» Results showed that after 10 days recovery was similar in both groups,
» Incidence of side-effects was low in both groups – though those taking the Tamiflu were more likely to experience gastrointestinal issues such as nausea and vomiting.
No difference between treatments
The researchers then watched to see what percentage of patients had mild or no symptoms after one, five, and 10 days of treatment. At each time point, the researchers found that a similar number of patients had recovered in both groups.
For example, after day one, 1.5% of patients in the herbal group and 4.1% of those in the Tamiflu group exhibited mild or no symptoms; recovery rates for days five and 10 were 50.2% and 48.8%, and 90.1% and 84.8%, respectively.
Statistical analyses revealed that the two treatments worked equally well even in a subgroup of patients with laboratory-confirmed influenza (as opposed to those with a diagnosis of flu based on symptoms alone). There was even a small trend towards a higher proportion of recovered patients after 10 days of treatment with Echinaforce Hotdrink.
The study, published recently the open-access journal Current Therapeutic Research, found there were few complication from treatment in either group; 6.5% of patients in the Tamiflu group experienced respiratory-related issues such as pneumonia, bronchitis, or sinusitis, and gastrointestinal complications. Fewer patients in the Echinaforce group (2.5%) experienced respiratory, but no gastrointestinal, complications.  Patients taking Tamiflu were more likely to experience gastrointestinal issues such as nausea and vomiting.
Early treatment is key
There were also no statistically significant differences between groups in terms of antibiotic use, intermediate doctor visits, use of over-the-counter medications for symptoms, "ability to return to normal daily activities," or physician- and patient-reported efficacy of the treatments.
"The size of this trial — 473 patients — is one of the largest echinacea clinical trials ever published," said Mark Blumenthal, founder and executive director of the American Botanical Council, a leading nonprofit research and education organization, who noted that the largest echinacea clinical trial in the scientific literature — with 755 subjects — was conducted with the same Echinaforce extract, and showed a preventive effect against respiratory tract infections.
The over-the-counter  availability of remedies like Echinaforce allows for a very early treatment start, which is central for treatment success with any intervention say the researchers.