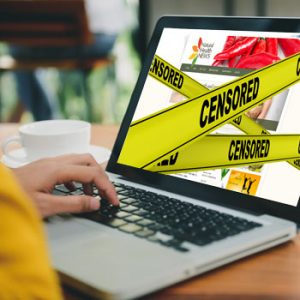 Your right to health information under threat
11 July, 2019
Your right to make independent and alternative choices about healthcare is slowly being eroded.
In June, Google implemented a new algorithm on its search engine which has wiped out traffic at some of the top natural health websites all over the world. This is just the latest in a series of algorithm changes that, over the years, has seen the web giant trying to redefine 'truth' by limiting free access to information. Google is morphing from an 'organic' search engine to a tool of censorship – other web platforms may follow and we should all be concerned.
Over the years our site has been hit badly by these algorithm changes. Somehow we have always managed to recover. I put that down to the high quality of the information we publish and the loyalty of our readers.
Indeed, Google used to rank pages based on whether an author could prove their expertise, for instance based on how many people visited a page or the number of other 'reputable' sites that linked to the site. We have that on our side – our articles are fully referenced and we always link to original research not pop opinion. As Editor and the author of multiple books, I also have along pedigree in natural health.
Out of sight, out of mind?
So we have battled on and tried to keep on top of each change as it has been implemented. However, most of our traffic comes from searches – from people just like you from all over the world who are looking to manage uncomplicated health problems in a less invasive, more holistic and more natural way.
Those people can no longer find us. If you doubt me take a look at the screen shots below of the search results for what has, traditionally, been one of our most popular articles, The natural way to heal cuts and wounds. Since it was first published in 2012 this article has consistently topped search results for this topic. Now it is gone from the top of the Google search page while still topping the Bing search page (it also remains on the first page of Duck Duck Go and Yahoo!).
We are not the only losers in Google's game. The June 2019 Google Broad Core Algorithm Update impacted sites like mercola.com, nuffieldhealth.com, draxe.com, mindbodygreen.com and prevention.com. Many noticed a dramatic drop – up to 99% of their usual traffic – from June 3, 2019.
The need to be well-informed has never been more acute. Nor has the need to feel confident in questioning the status quo, and in choosing a different path if you feel that status quo has let you down.
Sticking to our guns and our values
We remain committed to our core purpose and values.
Natural – Working with the grain of nature, not against it. Working with natural systems – from supporting an individual's innate healing response to cleaning up our environments and supporting agro-ecological farming – to create health.
Holistic – Everything is interconnected. We can all benefit from thinking in terms of whole systems, not just component parts, from creating health and well-being, rather than just fighting disease processes and from concentrating more on prevention than cure.
Helpful – We are committed to helping improve confidence in prevention and self-care by providing a wide variety of information empower others to take good care of their own health.
Inclusive – Creating greater health for everyone requires multiple ways of being and doing which are still not well integrated in to mainstream thinking. Through holism we aim to cultivate respect for ourselves, our community, our culture and our place in nature.
These new changes are a slap in the face to anyone who shares those values. I think they are also a warning about the trajectory we are on as a society. It doesn't have to be that way. Here are some things you can do:
You can keep in touch with this site by subscribing to our occasional newsletter.  Please encourage your friends and family to subscribe as well.
When you are ill or when friends and family are ill consider our site as a resource. Share relevant or interesting news articles with friends and family who might benefit from them.
Use our bespoke remedy finder to quickly search for simple remedies and search our archive of thousands of articles for more in depth information.
You still have choices
It's easy to feel overwhelmed by the digital world and as if we have no choices (inasmuch as that is true, it's very like the medical world!).
But you do have choices. If you are ready to vote with your feet and boycott Google altogether you can find inspiration and motivation at sites like Goopocalypse and How to Boycott Google. Other things you can do include:
As always, thank you for your continued support.
Pat Thomas, Editor
This editorial is from our occasional newsletter. You can read past editorials here. Or better yet sign up to receive your copy using the 'Keep in Touch' link on our home page.