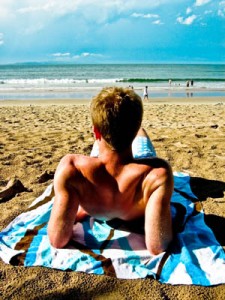 IBD drugs linked to higher risk of skin cancer
30 November, 2011
By Staff Writer
Natural Health News
Natural Health News — Immune supressing drugs given to people with inflammatory bowel disease may increase the risk for skin cancer, according to the results of two new studies in the journal Gastroenterology
In one study, French researchers led by Dr. Laurent Peyrin-Biroulet, of University Hospital of Nancy, found that both past and present use of a widely used class of immunosuppressants called thiopurines significantly increased the risk of non-melanoma skin cancer in inflammatory bowel disease patients.
"The increased risk of skin cancer that we found in our study was observed in all patients, even before the age of 50 years. As expected, this risk increased with age. All patients with inflammatory bowel disease currently receiving or having previously received thiopurines should protect their skin from UV radiation and receive regular dermatologic screening, regardless of their age," Peyrin-Biroulet said.
Non-melanoma skin cancer includes basal cell carcinoma and squamous cell carcinoma, which are the most common cancers diagnosed in North America.
In the second study, Canadian researchers found that certain people with inflammatory bowel disease, such as men with a form of the disorder known as Crohn's disease, may already be at increased risk for basal cell carcinoma, and the use of thiopurines increases this risk.
"All individuals should be protecting themselves against skin cancer," said lead author Dr. Harminder Singh, of the University of Manitoba.  "But, it is especially important that physicians stress the need to be extra vigilant about skin care with their inflammatory bowel disease patients, especially among those exposed to immunosuppressants such as thiopurines."
These are not the first studies to show this effect. In 2009, for example, data presented at the American College of Gastroenterology (ACG) 2009 Annual Scientific Meeting suggested that IBD patients on immunosupressants were 60% more likely to develop non-melanoma skin cancer (NMSC) than their counterparts without IBD.
A higher incidence of NMSC has also been observed in HIV patients, organ transplant recipients and other patients taking immunosuppressants has been documented for many years (for a brief overview see here).
The overall evidence suggest a need to reassess the risks and benefits of immunosuppressant drugs – which may be unique in each individual case. However it may also maybe a good indication that we must begin to consider less harmful ways of  treating certain diseases.