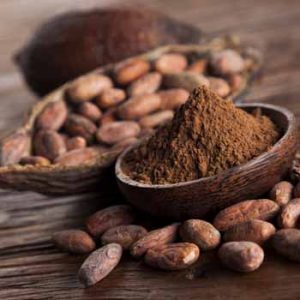 Cacao gives skin a collagen boost
24 February, 2016
By Staff Writer
Natural Health News
Natural Health News — We already know that cacao beans are rich in naturally occurring antioxidants known to help protect against a range of diseases. But does it also have an added anti-ageing benefit?
Scientists from Seoul National University in Korea believe it does and say that their tests show that the antioxidants in cacao may actually help to prevent wrinkles.
Repeated exposure to UV light is known to decrease procollagen production and break down collagen fibres, which in turn causes wrinkles.
What you need to know
» Cacao, the starting material for chocolate, contains some of the highest levels of antioxidants of any plant food.
» In a new study of human skin cells and in animals, cacao was found to improve the efficiency of many genes involved in maintaining hydration and elasticity when skin was exposed to UV rays.
» The authors suggest that cacao may have future applications both as supplement and topical application to protect skin from sun damage.
But the Korean data,  published in the Journal of Investigative Dermatology, suggests that substances in cacao help regulate skin health at a genetic level, "significantly" reducing wrinkles caused by exposure to the sun.
In tests on human skin cells and in mice, 788 genes were found to work more efficiently to protect the skin from UV damage after the application or ingestion of cacao powder.
According to the researchers cacao boosts skin by increasing blood flow and improving skin density and hydration.
A collagen boost
Results showed that the mice that consumed the cacao powder had higher levels of collagen than those in a control group. They suggest that cacao may offer a protective effect against wrinkles or dark spots on the skin by halting the breakdown of the dermal matrix, which in turn leads to an overall reduction in wrinkle formation.
Cacao contains antioxidants, which are substances known to help protect the body both internally – for conditions such as heart disease, cancer and other long term illnesses – and externally in terms of keeping skin healthy.
In their raw state cacao beans have higher levels of antioxidants than green tea and red wine – but processed into chocolate bars much of the antioxidant potential of the cacao is lost.
Even so, studies have shown chocolate consumption can boost antioxidant levels and does have a role to play in maintaining health.
"Our studies indicate that cacao powder supplementation contributes to a reduction in wrinkle formation and collagen degradation," wrote the researchers "These results underline the potential for cacao powder extracts to be further developed as anti-photoageing agents."