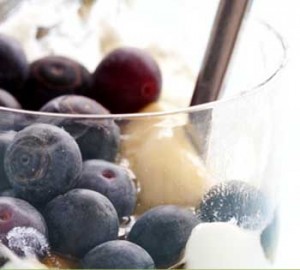 Baobab and bee pollen yoghurt
9 May, 2016
By Staff Writer
Natural Health News
So easy and delicious…
This is a functional food treat. Its ingredients can help to support your immune system, helping you cope with seasonal allergies better. Serves 1.
Ingredients
1 tsp bee pollen – for natural allergy relief
2 tsp baobab powder – a great pre-biotic for the gut
1 tsp chia seeds – packed with omega 3 for gut health
10 rehydrated golden berries – for a vitamin C boost
1 small serving organic plain live yoghurt – Good bacteria to support gut health
1 dessertspoon raw honey8 – a traditional remedy for hayfever
Optional: small handful of blueberries and a sprinkle of pumpkin seeds
Method
1 Blend the baobab and yoghurt in a small bowl
2 Drizzle the raw honey over the top
3 Sprinkle the bee pollen, golden berries and chia seeds
4 Add blueberries and pumpkin seeds if you wish
*Why not try buying raw honey from a local bee keeper or farmers market? Unless it says 'raw', it's been pasteurised which can destroy the some of the health giving properties of honey.

Top News Stories
Keep In Touch
Please subscribe me to your newsletter mailing list. I have read the
privacy statement