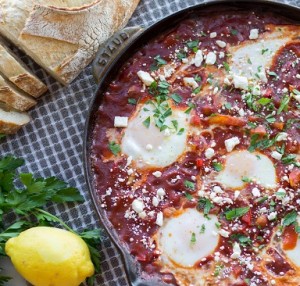 Chickpea shakshuka
7 September, 2016
By Staff Writer
Natural Health News
If you've never tried shakshuka you are in for a taste treat.
This classic Middle Eastern dish is spicy, hearty and cheap. It can all be prepared in a single large skillet and then brought to the table still in the pan for everyone to dig in to.
For a classic shakshuka tomatoes and sauteed vegetables and aromatic spices are the backbone of the recipe, but there are lots of variations, and if you don't like tomatoes you can make a base out of just about anything ( a 'green' version would use a combination of things like leeks, leafy greens, artichoke hearts, broad beans. potatoes and onions).
Often it's eaten at breakfast, but frankly it's a satisfying and quick to prepare meal at any time of day. This recipe from the Pulse Pledge website (featuring a wealth of recipes for the International Year of Pulses) is a good basic version to try. Because it has added chickpeas (garbanzo beans) it also helps to get more pulses into your regular diet. Serves 2.
1 tbl olive oil
½ small yellow onion diced
1 ½ cloves garlic diced
½ red pepper thinly sliced
½ yellow pepper thinly sliced
½ green pepper thinly sliced
1 tsp ground cumin
1 tsp smoked paprika
½ tsp chili powder
1/8 tsp cayenne pepper
½ tsp salt
½ tsp ground pepper
½ can (14 oz) crushed tomatoes
350ml (12 oz)  cooked chickpeas (garbanzo beans)
2-4 eggs (depending on how hungry you are!)
generous handful fresh parsley roughly chopped
30g (1 oz) crumbled feta
1 tsp lemon zest
1 Pre-heat the oven to 200° C (400° F). Heat the oil olive in a large oven-safe skillet over medium-high heat. Add the onions and sauté just translucent, about 4 minutes.
2 Add the garlic and sauté for 30 seconds, then add all of the bell peppers. Cook until peppers are soft, about 4 minutes.
3 Add the spices and the crushed tomatoes to the pan with 60 ml (2 oz) water and cook for about 5 minutes or until sauce is nice and thick.
4 Stir the chickpeas into the pan.
5 Create holes in the tomato mixture and crack an egg into each.
6 Transfer the mixture to the oven and bake until eggs are set, about 8 to 10 minutes.
7 Top with fresh parsley, feta and lemon zest before serving with crusty bread or pita.

Top News Stories
Keep In Touch
Please subscribe me to your newsletter mailing list. I have read the
privacy statement