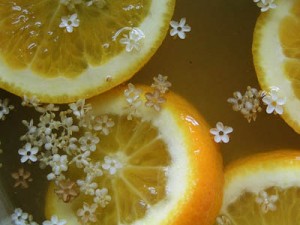 Elderflower cordial
18 June, 2012
By Staff Writer
Natural Health News
Elderflowers are out now and they are one of the quintessential tastes of early summer.
They are easy to forage (but remember to take only what you need and never all from one tree), and this cordial is great on its own or as a mixer in both alcoholic and non-alcoholic summer drinks.
Ingredients
20 elderflower heads
900ml (approx 2 pints) water
900g (2 lb) sugar
1 sliced lemon
100 g (3 oz) citric acid
Method
1 Boil water, add sugar and lemon, remove from heat until the sugar dissolves.
2 Bring to the boil again, add flowers and citric acid. Heat up to boil again, then stand until cool.
3 Strain through a muslin cloth and store the liquid in airtight bottles.
Serve diluted to taste. Keeps 3 months when stored in a cool place.

Top News Stories
Keep In Touch
Please subscribe me to your newsletter mailing list. I have read the
privacy statement