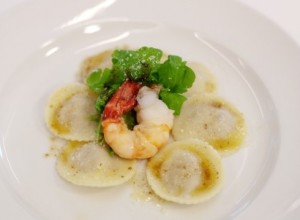 Gourmet – and gluten-free!
14 May, 2013
By Jose De Freitas
Natural Health News
What does a gluten free menu look like?
Jose De Freitas, Second Chef at Silver Springs Care Home, in St. Brelade, Jersey and winner of the  Coeliac UK's Gluten-free Chef of the Year 2012 has come up with this truly tempting three course meal which shows that going gluten free doesn't mean you have to feel deprived.
Starter – Goats cheese soufflé, served with caramelised shallots, broad bean salad and balsamic dressing.
Main – Pan roasted butternut squash and king prawn ravioli, served with sage brown butter and rocket and parmesan salad.
Dessert – Gooey chocolate fondant, served with caramel sauce, vanilla cream and fresh raspberries.
Each recipe serves 2 people. Enjoy!
» » » » » »
Starter – Goats cheese soufflé

Ingredients

For the gluten-free flour mix (equivalent to plain flour)*
Ground white rice flour
Potato flour
Tapioca flour
Maize
Buckwheat
* NYR Natural News note: ou can make your own mix but there are many gluten free flour mixes available to buy as well. Doves Farm make a version that uses all of the above ingredients.
Goats cheese soufflé
25g plain flour (gluten-free)
25g butter
150ml milk
Dijon mustard, little touch
10g Parmesan
1 egg, separated
75g goats cheese
Salt and pepper
 Method
1 Melt the butter in a large saucepan and use about 1tbl to grease 2 soufflé dishes using upward strokes. Add the flour to the melted butter and cook for 2 minutes, stirring constantly, then gradually whisk in the warm milk, a little at a time, until you have a thick, smooth mixture.
2 Stir in the Parmesan and mustard, and then set aside to cool slightly. Beat in the egg yolks, fold through the goats cheese, season with salt and pepper, then transfer to a large bowl.
3 In a clean bowl, whisk the egg whites until they just start to stiffen and hold peaks.
4 Use a metal spoon to fold them into the cheesy mixture, in 3 additions.
5 Heat oven to 200C/180C fan. Spoon the mix into the soufflé dishes, and then sit them in a roasting tin. Pour boiling water into the tin to reach halfway up the sides of the dishes. Bake the soufflés for 20-25 minutes until they are risen and golden brown.
6 To serve remove from dishes and place the soufflé in the centre of the plates and arrange few spoons on the broad beans all round. Set a few shallots on the broad beans and drizzle the balsamic reductions and olive oil on the top of the broad beans, put a few salad leaves in between the shallots as garnish and serve.
For the broadbeans

100g broadbeans. If using fresh broad beans peel them from pod
Salt and pepper
Remove the inner skin and simmer in a little salted water. Allow to reduce slowly until almost no water left, remove from stove, check seasoning and add some butter, keep on the side.
For the shallots

Peel the 100g shallots, cut in half if big, put a frying pan on stove to heat, add a little oil and sauté the shallots allowing some colour, add the balsamic vinegar and allow to evaporate, add some sugar and a touch of water. Reduce until cooked and syrupy but not too thick.
» » » » » »
Main – Pan roasted butternut squash and king prawn ravioli
Ingredients
100g butternut squash
100g raw king prawns peeled and clean
1 garlic glove
1 sprig of thyme
60ml double cream
Oil, for frying
Salt and pepper
Method
1 Peel the butternut squash and small dice.
2 Finely chop the garlic and thyme sprig.
3 In a very hot frying pan add a little oil and cook the squash for 3 minutes until its brown in colour, add the garlic and thyme and stir.
4 Quickly small dice the prawns and add to the frying pan, stir in for a minute, add the cream and allow to reduce slightly season to taste.
5 The mixture should all hold together.
6 Remove from heat and cool down in a clean tray.
7 Store in fridge until needed.
Gluten-free fresh pasta mix
Ingredients
100g rice flour
100g corn flour
3tbl potato flour
2tsp xanthan gum
Pinch of salt
3 eggs
1tbl olive oil plus extra for dressing salad
 Method
1 To make the dough, add the rice flour, corn flour, potato flour, xanthan gum and a pinch of salt to a food processor, then pulse to mix.
2 Pour in the eggs and blitz until everything is well combined.
3 Knead a little to bind and form dough, wrap in clingfilm and rest for 30 minutes.
4 Take a handful amount of dough, squash it flat with your fingers (remember to keep the rest of your dough covered with the clingfilm so it doesn't go dry and go crusty), push it through the pasta roller on the widest setting. Because there is very little gluten in this flour you will find that the dough crumbles as it comes out of the pasta machine. Not to worry patch the pieces together gently and push through again on the widest setting.
5 Repeat this step until your dough comes out in one piece.
6 Once it comes out in one piece, fold the sheet into 3 pieces and roll through the widest setting.
7 Repeat until you have a rough square shape, then start working it through the machine, taking it down one setting at a time, until the pasta sheets are nice and thin.
8 Using a medium pastry cutter, cut 20 round disks which will make 10 raviolis.
9 Place 10 of the disks in a row, egg wash one at a time and place a small tsp of the cold butternut squash and prawn mixture in the centre, place another pasta disk over and squeeze with thumb just around the edges to seal the ravioli, repeat with remaining pasta disks.
10 Put on a tray and keep in the fridge until needed.
11 Bring a pan of salted water to the boil and cool the raviolis in small batches for 6 to 8 minutes or until pasta is cooked but al dente.
12 Put a small sauce pan on the medium heat, wait until it's very hot and throw in a few cold salted butter cubes. It should start going light brown as it melts, remove from heat and squeeze in a little lemon juice and finish with chopped sage.
13 Arrange the 5 hot raviolis in a circle around the plate.
14 Dress the rocket salad leaves with a touch of olive oil
15 Put in the middle of the plate, adding a bit of Parmesan shavings. Spoon the sage butter over the ravioli and enjoy.
» » » » » »
Desert – Gooey chocolate fondant
Ingredients
15g melted butter, for brushing
Cocoa powder, for dusting
45g good-quality dark chocolate (gluten-free)
45g butter, in small pieces
45g golden caster sugar
1 egg and 1 yolk
45g plain flour (gluten-free)
Method
1 Heat oven to 200°C/180°C fan
2 To start with, get moulds ready. Using upward strokes, heavily brush the melted butter all over the inside of the pudding mould. Place the mould in the fridge. Brush more melted butter over the chilled butter, and then add a good spoonful of cocoa powder into the mould. Tip the mould so the powder completely coats the butter. Tap any excess cocoa butter back out, and then repeat with the next moulds.
3 Place a bowl over a pan of simmering water, and then slowly melt the chocolate and butter together. Remove bowl from the heat and stir until smooth. Leave to cool.
4 In a separate bowl whisk the eggs and yolks together with the sugar until thick and pale and the whisk leaves a trail. Sift the flour into the eggs, and then beat together.
5 Pour the melted chocolate into the egg mixture in thirds, beating well between each addition, until all the chocolate is added and the mixture is completely combined to a loose cake batter.
6 Spoon the mixture into the prepared moulds.
7 Place the fondants on a baking tray, and then cook for 10-12 minutes until the tops have formed a crust and they are starting to come away from the sides of their moulds. Remove from the oven, then leave to sit for 1 min before turning out.
8 Loosen the fondants by moving the tops very gently so they come away from the sides, easing them out of the moulds. Tip each fondant slightly onto your hand so you know it has come away, then tip back into the mould ready to plate up.
9 Starting from the middle of each plate, squeeze a spiral if caramel sauce.
10 Sit a fondant in the middle of each plate. Using 2 spoons dipped in hot water, scoop a 'quenelle' of the whipped cream.
11 Carefully place the cream on top of the fondant and garnish with mint leaf and a raspberry.
For the caramel sauce
Method
1 Put ¾ of the cold water into a small pan, add sugar, put on medium heat
2 Cook until golden brown add remaining of water and remove from heat
3 Cool down
For the vanilla cream
45ml double cream
1tsp icing sugar
Drop vanilla
Method
1 Add cream sugar and vanilla into a small metal bowl and whisk until the cream is thick and set.