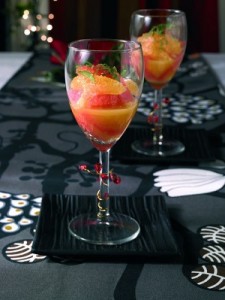 Passionate citrus cup
27 June, 2013
By Staff Writer
Natural Health News
This simple citrusy concoction is quick to make and can be used as either a starter or as a light, refreshing desert.
Make sure your passion fruit are ripe and wrinkly otherwise you may not have sufficient juice and the juice will be sharp. Serves 4.
Ingredients
3 large oranges (peeled and segmented)
3 ruby grapefruit (peeled and segmented)
For the dressing:
4 large ripe passion fruit*
½ tsp peeled and finely grated ginger
3 tbsp organic sunflower oil
Pinch caster sugar
6 mint leaves, sliced into fine ribbons (to garnish)
Method
1 Share out the fruit into four dishes or glasses.
2 Remove the pips by straining the passion fruit through a sieve to leave approximately 1 ½ tbsp juice. Mix this well with the other dressing ingredients and drizzle over the fruit. Garnish with mint ribbons.
The Vegetarian Society Approved trademark is the original and only one to trust. The only legally licensed vegetarian trademark, you can ensure that where you see its logo, all products have passed through its strict criteria and can be guaranteed 100% vegetarian. To find out more visit http://www.vegsocapproved.com/
Recipe copyright © The Vegetarian Society 2007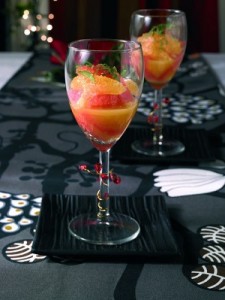 Top News Stories
Keep In Touch
Please subscribe me to your newsletter mailing list. I have read the
privacy statement