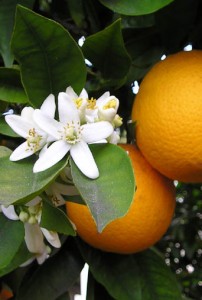 Refreshing orange flower water facial spritz
30 May, 2012
By Staff Writer
Natural Health News
Summer is well and truly here, so here's a refreshing botanical recipe that is simple to make and a delight to use.
Orange flower water is a wonderfully restorative remedy for the skin, and aromatherapists use its delicate scent to help treat stress. This refreshing spritz is ideal to use when travelling to revitalise the skin and energise the mind.
Ingredients
85 ml (2¾ oz) distilled water
2 tsp aloe vera juice
1 tsp orange flower water
1 drop propolis tincture
1 drop lemon essential oil
1 drop rosemary essential oil
Method
Combine all the ingredients and decant into a sterilised bottle (preferably glass) with an atomiser spray. Shake well before each use.
Store in the refrigerator when not in use so the spritz stays fresh and cool. Use within 2 days.
Taken from Neal's Yard Remedies Cook, Brew and Blend Your Own Herbs (Dorling Kindersley). To purchase a copy or get more details see here.

Top News Stories
Keep In Touch
Please subscribe me to your newsletter mailing list. I have read the
privacy statement