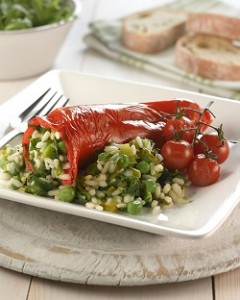 Risotto stuffed ramiro peppers
18 September, 2014
By Staff Writer
Natural Health News
Looking for something different for lunch of dinner?
These gorgeous ramiro peppers bring flavour and colour to the table, and stuffed with rice and peas and served with a tangy Thai salad they make a satisfying but relatively light meal packed full of nutrition. This recipe serves 4 and can go from raw ingredients to table in under an hour.
Ingredients
For the peppers:
2 stock cubes dissolved in 1 litre (35 oz) water
2 tbsp olive oil
1 leek, finely chopped
3 cloves garlic, crushed
50ml white wine
1 lemon zest
150g (5 oz) curly kale, chopped
250g (8 oz) arborio rice
150g (5 oz) frozen peas
to taste freshly ground salt & black pepper
6 tbsp olive tapenade*
8 straight, red Ramiro peppers
20 small cherry tomatoes on the vine (5 per person)
* You can make your own tapenade by blending 30g olives, 1 tsp capers, 2 tsp olive oil  and 1 tsp dried oregano.
For the quick side oriental salad:
1 block (400g, 13 ½ oz) of plain tofu, cut into strips
200g (6 ½ oz) mange tout sliced thinly lengthways
1 cucumber cut into ribbons
100g ( 3 oz) chestnut mushrooms, cut as thinly as you can
50g  (1 ½ oz) sesame seeds
1 tsp soya sauce
Method
1 Preheat the oven to 220° C (425° F or gas 7). Put the vegetable stock into a saucepan and simmer.
2 Fry the leek in a little oil for 5 minutes until softened in a large, wide frying pan. Add the garlic and fry for another minute.
3 Steam the kale for 5 minutes, run under cold water, drain and set to one side.
4 Add the white wine, lemon zest and rice to the pan and make sure that the rice is well coated. Cook until the wine has been soaked up by the rice. Now ladle some of the stock over the rice and stir.
5 As the stock is absorbed by the rice keep topping up with more hot stock from the saucepan and keep stirring. It should take about 15-20 minutes and the risotto should have a creamy consistency when the rice is cooked. You may not need all the stock depending on the size of pan used. Add the peas and wilted kale to the risotto about 5 minutes towards the end. Season to taste.
6 Cut the tops of the Ramiro peppers and stuff with the risotto followed by a tsp of the tapenade. Repeat this for all the peppers until they are filled. You will have risotto left for serving. Set the remaining risotto to one side, reheat just before serving.
7 Drizzle a little olive oil on to the peppers and tomatoes then roast on a foil lined baking tray for 10-15 minutes.
8 To make the salad: simply mix all the ingredients together with a splash of soya sauce.
To serve place a large spoon full of the spare risotto onto a large plate and stack two peppers against it. Put a set of cherry tomatoes next to the risotto. Serve with the quick oriental salad.
The Vegetarian Society Approved trademark is the original and only one to trust. The only legally licensed vegetarian trademark, you can ensure that where you see its logo, all products have passed through its strict criteria and can be guaranteed 100% vegetarian. To find out more visit http://www.vegsocapproved.com/
Recipe copyright © The Vegetarian Society 2010