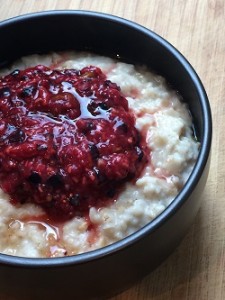 Super antioxidant fruit compote
21 April, 2015
By Tipper Lewis
Natural Health News
This is a scrumptious, antioxidant packed and extremely healthy addition to your morning porridge.
It's really easy to make and I love it with a teaspoon of coconut oil melted on top. You could even enjoy it with some toast instead of jam.
Ingredients
Handful blueberries – these berries are bursting with antioxidant goodness
Handful raspberries – a familiar favourite, these are rich in antioxidant
3 tablespoons goldenberries (rehydrated overnight) – an excellent source of concentrated nutrients, antioxidants and brain-boosting B vitamins
3 tablespoons mixed rehydrated goji and mulberry – two powerhouses of healthy antioxidants, rich in essential fatty acids, vitamins and minerals
½ tsp cinnamon powder – helps to balance blood sugar levels
Optional
1 tsp organic virgin coconut oil, warmed – full of good fats, this is highly nutritious& loaded with health benefits
Method
Combine all the ingredients together and blend. Try serving on porridge or yoghurt. You can freeze any surplus until needed.

Top News Stories
Keep In Touch
Please subscribe me to your newsletter mailing list. I have read the
privacy statement