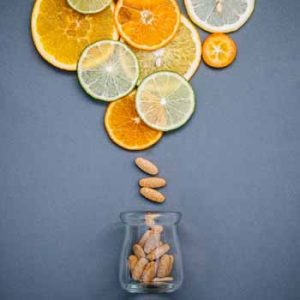 Vitamin C makes cancer treatment more effective
3 April, 2017
By Staff Writer
Natural Health News
Natural Health News — Very high doses of vitamin C could be a safe and potentially effective addition to cancer treatments, according to new research.
Vitamin C has been studied as a potential treatment for cancer patients for more than four decades, though with mixed results.
The small clinical trial studied the safety and efficacy of giving between 800 and 1,000 times the daily recommended dose of vitamin C (impossible to get through food) to 11 patients with brain cancer. Results suggested that it weakened the cancerous cells, leaving them vulnerable to the effects of radiation and chemotherapy.
Over the course of the study, the patients were given three weekly intravenous infusions of vitamin C for 2 months, and then two weekly infusions for 7 months.
Each infusion raised the patients' blood levels of vitamin C to 20,000 micromoles (μM). The average level of vitamin C in adults is approximately 70 μM.
What you need to know
» Vitamin C has been studied as a potential treatment for cancer patients for more than four decades, though with mixed results.
» In a new trial patients with brain cancer were given ultra-high intravenous doses of vitamin C – 800 and 1,000 times the RDI – to test its safety and efficacy.
» Vitamin C isn't toxic to normal cells but researchers found it selectively reacted with iron molecules in the tumours to form free radicals that damaged the cancer cells and lead to cell death.
Exposing cancer's weakness
Overall, the treatment was tolerated well and writing in the journal Cancer Cell, the team noted very few minor side effects, such as dry mouth or rare and brief episodes of high blood pressure.
Vitamin C, even at very high levels, isn't toxic to normal cells, but the research group at the University of Iowa found that tumour tissue's abnormally high levels of redox active iron molecules (a by-product of abnormal cellular metabolism) reacted with vitamin C to form hydrogen peroxide and free radicals derived from hydrogen peroxide.
These free radicals are believed to cause selective DNA damage in cancer cells leading to enhanced cancer cell death as well as sensitisation to radiation and chemotherapy in cancer cells.
"This paper reveals a metabolic frailty in cancer cells that is based on their own production of oxidising agents that allows us to utilise existing redox active compounds, like vitamin C, to sensitise cancer cells to radiation and chemotherapy," says co-author Garry Buettner, who was one of the first to propose that cancer cells might have a vulnerability to redox active compounds over 40 years ago.
More trials coming
"This is a significant example of how knowing details of potential mechanisms and the basic science of redox active compounds in cancer versus normal cells can be leveraged clinically in cancer therapy," says co-senior author Douglas Spitz, who focused on the biochemical studies.
"Here, we verified convincingly that increased redox active metal ions in cancer cells were responsible for this differential sensitivity of cancer versus normal cells to very high doses of vitamin C."
This is the second recent study to show that vitamin C can be an effective adjunct to cancer treatment. Earlier this year UK scientists found that it was up to ten times more effective at stopping cancer cell growth than common pharmaceuticals.
The current study sets the stage for larger trials investigating whether high-dose vitamin C injections can extend the lifespan of cancer patients.