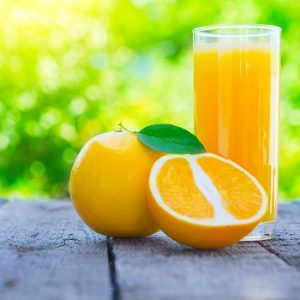 Increase vitamin C to protect bones, prevent hip fractures
13 November, 2017
By Staff Writer
Natural Health News
Natural Health News — Keeping your bones strong could be as simple as drinking a glass of orange juice a day, according to new data.
A new analysis looked at studies into the bone-protective effect of vitamin C in nearly 10,000 people. Specifically the Scientists at Zhengzhou University in China were looking at high quality data on the risk of hip fractures in relation to daily vitamin C intake.
Pooling the results of  six previous studies on vitamin C and fracture risk, they found that every 50 mg vitamin C intake daily – the equivalent of a small orange, or 60mls (a quarter of a glass) of freshly-squeezed orange juice – lowered the risk of fracture by 5%.
This means a 240ml (8oz) glass of orange juice daily could cut the risk by 20%.
The researchers note that previous studies show that those with high fruit and vegetable intake are less prone to hip fractures. This they say this likely because of the higher vitamin C content in fruits and vegetables.
What you need to know
» A new meta-analysis has shown that those who consume the highest amounts of vitamin C Daily, from food or supplements, have a lowered risk of hip fracture.
» Chinese scientist looked at data from studies involving nearly 10,000 people around the world.
» Results showed that for every 50 mg vitamin C intake daily – the equivalent of a small orange, the risk of fracture was lowered by 5%.
In those with adequate daily intake, Vitamin C exerts a protective effect by stimulating cells called osteoblasts to become mature bone cells.
The results of the meta-analysis in the journal Osteoporosis International, say the researchers, "strongly support that increasing dietary vitamin C intake can decrease the risk of hip fracture."
Support for previous studies
There is some previous research to support this view. The Framingham Study, a well-known, long-term American medical study which began in 1948, also looked into the link between vitamin C intake and hip fractures over a 17 year period.
The findings, reported in 2009, showed that those with the highest total vitamin C intakes (averaging 313 mg per day) had a significantly lower (44%) rate of hip fracture risk when compared to those with the lowest total intakes (94 mg per day).
Similarly, those in the groups with higher vitamin C supplement intakes had fewer hip fractures compared to those who took no vitamin C supplements.
Abundant in food
Vitamin C is a water soluble vitamin that the body does not store and cannot manufacture on its own. It therefore needs to be obtained from the diet every day. While most of us think oranges when we think of vitamin C, many other foods are rich in this nutrient:
Two kiwi fruits will give you 85 mg of vitamin C
A one-cup serving of papaya delivers 88 mg
A cup of strawberries contains 85 mg
A cup of chopped red peppers contains around 190mg.
A cup of green peppers has 120mg.
One cup of kale provides around 80 mg
A cup of broccoli contains 81 mg
Vitamin C supplements are also a good way to ensure you are getting enough. Look for those with added bioflavonoids.
Good news for an ageing population
As our population ages, health officials worry about the increased incidence of hip fractures.
In the UK, for example, around 65,000 people a year suffer a hip fracture. Most are older people who have some degree of osteoporosis. The UK's National Health Service spends over £1bn a year treating hip fractures, so dietary prevention could benefit both people and an overburdened health service.