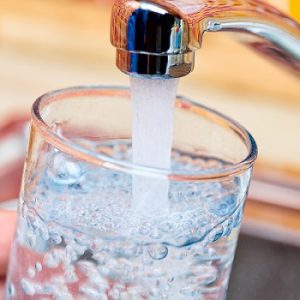 Global study reveals microplastics in tap water
7 September, 2017
By Staff Writer
Natural Health News
More than 80% of tap water samples collected worldwide tested positive for microplastics.
That's the conclusion of a unique global scientific study on the overwhelming prevalence of microplastics – ultra small pieces (less than 5 mm) of plastic debris resulting from the disposal and breakdown of consumer products and industrial waste.
"Our exclusive research found 83% of the tap water samples from 14 countries are contaminated with microscopic plastic fibres", said Molly Bingham, founder and CEO, Orb Media, a US based non-profit digital media outlet.
"Scientists say they don't really know how these microplastics reach our taps or what the health risks might be. But microplastics have been shown to absorb toxic chemicals from the marine environment, and then release them when consumed by fish and mammals."
"I am concerned by the implications of our research. At the very least, I hope that our work triggers large scale, global research on plastic contamination and the ramifications for human health particularly that of children."
A global problem
The tap water study, was designed by Dr. Sherri Mason a microplastic expert at the State University of New York at Fredonia, and Elizabeth Wattenberg at the University of Minnesota, School of Public Health.
What you need to know
» A new international study has found microplastics in tap water samples from around the world.
» 83% of the tap water samples from 14 countries are contaminated with microscopic plastic fibres with the US having the highest rate of contamination.
» Currently, there are no regulations concerning the levels of microplastics in fresh water supplies.
In all they screened 159 half litre drinking water samples from 14 countries: Cuba, Ecuador, France, Germany, India, Indonesia, Ireland, Italy, Lebanon, Slovakia, Switzerland, Uganda the UK, and the US. Samples were taken from a variety of places including the government buildings in the US, the exclusive Sloane Club in London, a private apartment in Beirut, a household tap in Slovakia and a public spigot on the shores of Lake Victoria in Uganda.
Results showed that the contamination of tap water samples was distributed evenly across the globe.
The US had the highest contamination rate, at 94% of samples tested, with plastic fibres found in tap water sampled at sites including Congress buildings, the US Environmental Protection Agency's headquarters, and Trump Grille in New York.  Lebanon and India had the next highest rates.
European nations including the UK, Germany and France had the lowest contamination rate. However 'low' is a relative term since around 72% of samples from these countries were found to be contaminated.
The average number of fibres found in each sample ranged from 4.8 in the US to 1.9 in Europe.
The full story of the investigation, Invisibles: The Plastics Inside Us, can be read here.
No regulations in place
Earlier this year a study conducted by the US EPA sampled freshwater supplies in the Republic of Ireland and found worrying levels of contamination in tap water and well samples there.
Results showed that microplastics could pass through a public water supply filtration system meaning these non-biodegradable micro-particles can end up in rivers and oceans, potentially entering the food chain.
Currently, there are no regulations concerning the levels of microplastics in fresh waters, despite a significant abundance of microplastics in several freshwater systems. The study highlighted a number of areas of concern, including:
Exposure to microplastics if present in drinking water or via consumption of food prepared using water containing microplastics;
Consumption of freshwater fish, such as salmon or trout, which have been exposed to or have ingested microplastics;
Accidental ingestion of water containing microplastics through bathing.
The study also identified 24 different species of molluscs, fish, birds, mammals and crustaceans, as being potentially at risk from microplastic pollution in Ireland, many of which are classified as endangered or vulnerable.
A human problem that humans have to solve
"In addition to microbeads washed into the sewer from the use of personal care products, synthetic fibres from clothing transported in washing machine wastewater are another significant contributor of microplastics found in urban wastewater treatment plants", said lead researcher Dr Anne Marie Mahon of the Marine and Freshwater Research Centre at Galway Mayo Institute of Technology (GMIT).
"Although some microplastics are discharged with the wastewater into receiving freshwater systems, most of these fibres become trapped in sewage sludge at treatment plants, which include a settlement treatment process. Landspreading of these sludges on agricultural land poses risks to terrestrial ecosystems and potentially further risks to freshwater systems."
Commenting on the Orb Media study Muhammad Yunus, 2006 Nobel Peace Prize laureate said: "Since the problem of plastic was created exclusively by human beings through our indifference, it can be solved by human beings by paying attention to it. Now what we need is a determination to get it done before it gets us."