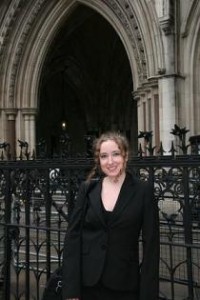 UK Government's pesticides reform doesn't go far enough
11 December, 2013
By Georgina Downs, UK Pesticides Campaign
Natural Health News
Last week I had a significant victory in my 12 year battle against the UK Government over pesticides. But DEFRA Ministers have still failed to secure the protection of people in the countryside from pesticides
In a rather low key announcement, the Government finally agreed to changes to its policy for assessing the risks to people from agricultural pesticides.  This followed a long drawn out battle between myself and the Government often dubbed "Georgina v Goliath".
In 2001, I identified astonishing failings in the Government's existing policy and approvals system for protecting people, like me, who live near crop sprayed fields, from the health risks of pesticide use. As a result I started to present a case to the Government regarding its policy failings, and campaigning for urgent action to protect the health of people in the countryside.
To date, the official method in the UK of assessing the risks to people from crop spraying and under which pesticides are approved, is based on the model of a "bystander" which assumes that there will only be occasional short-term exposure of just a few minutes. It is also based on the assumption that exposure will only be to one individual pesticide at any time.
Yet, as I have continued to correctly argue since the outset of my campaign, this "bystander" model clearly does not address the exposure of people who are actually living in these sprayed areas, as exposure for rural residents is long-term, chronic, cumulative, and is to innumerable mixtures ("cocktails") of pesticides used on crops. (There are approximately 2,000 products currently approved for agricultural use in the UK).
Denial of the problem
Until now the Government and its main advisors, the Advisory Committee on Pesticides (ACP), have continued to deny the inadequacies of the existing approach in the UK. So much so, that I was left with no choice but to challenge the Government's policy in the courts.
As a direct result of that legal case, (in particular the landmark ruling in the High Court that rural residents are not protected from pesticides), DEFRA Ministers requested a review of the policy in March 2009. As part of that review the ACP set up a joint working group with the Committee on Toxicity (COT) known as "BRAWG."
It was supposed to be only "short-life" of a matter of months, but eventually reported to Ministers nearly 4 years later, in December 2012. BRAWG recommended changes to the approach for assessing the risks to people from pesticides.
It agreed with a number of my long-standing arguments including that there needs to be separate exposure and risk assessments for residents and bystanders, and that both acute (short-term) and longer-term exposure assessments are required for residents.
However, despite vindicating the crux of my critical campaign arguments (in that residents are not covered by the existing "bystander" model), it has to be said that overall BRAWG's recommendations were still woefully inadequate. It has inexplicably taken nearly another year for the Government to announce that it has accepted all of BRAWG's recommendations.
In doing so the Government is now finally acknowledging that the risk assessment approach relied upon to date has been inadequate. This is what I have always argued, as there has been no risk assessment whatsoever to cover the exposure of residents living near sprayed fields.
But which pesticides?
The changes in approach will apply to any new pesticide products to be considered for approval, but it also raises serious questions as to what happens to all the pesticides that have been approved under the inadequate approach? Will all those pesticides now be reassessed?
According to reports a DEFRA spokesman has now confirmed that pesticides currently approved could ultimately be affected, as well as new ones coming through the system.
Yet the fact that there has never been any assessment in the UK to date of the risks to health for residents and others exposed over the long term means that under EU law pesticides should never have been approved for use in the first place for spraying in the locality of residents' homes, as well schools, children's playgrounds.

It also means that there has never been any evidence to support the Government position of safety to residents, or children attending schools near sprayed fields, just the Government's own continued assertions.
Rural residents still at risk
The existing UK policy has put rural citizens in a guinea pig-style experiment, and for which many of us residents have had to suffer the serious and devastating, and even fatal, consequences of.
Although the Government's decision to change its approach for assessing pesticide risks is a significant victory in my 12 year battle against the Government on this issue, Ministers have still failed to secure the protection of people in the countryside from these harmful chemicals.
It is now beyond dispute that pesticides can cause a wide range of both acute, and chronic, adverse effects on human health. The European Commission has previously clearly acknowledged that:
"Long term exposure to pesticides can lead to serious disturbances to the immune system, sexual disorders, cancers, sterility, birth defects, damage to the nervous system and genetic damage."
A catalogue of health effects
Throughout my 12 year campaign I have continued to receive reports of both acute adverse health effects, as well as chronic long-term effects, illnesses and diseases, from residents in rural communities. The reports cover all different age groups from the very young (including babies and young children) to the elderly.
The acute effects reported are the same types of effects recorded in the Government's own monitoring system and include, sore throats, chemical burns to eyes and skin, blisters, burnt vocal chords, respiratory irritation, breathing problems, difficulty swallowing, headaches, dizziness, vomiting, stomach pains, and flu-type illnesses.
The most common chronic long-term illnesses and diseases reported to the campaign include neurological conditions, (including neurological damage, Parkinson's disease, Multiple Sclerosis), as well as various cancers, (especially those of the breast, prostate, stomach, and brain), leukaemia, non-Hodgkins lymphoma, amongst other conditions.
The economic costs of the health conditions that pesticides can cause are massive. Obviously it goes without saying that the personal and human costs to those suffering chronic diseases and damage, and the impacts on all those around them, cannot be calculated in financial terms.
Further, a number of residents have tragically lost their lives as a result of suffering such conditions, and many more will inevitably do so if the Government continues to fail to stop the spraying of these toxic chemicals in the locality of residents' homes and gardens.
Real effects, real people
Take Douglas Lee for example. Douglas and his family lived in the locality of pesticide sprayed fields. Douglas lost his son to leukaemia and had also previously recorded three other cases of leukaemia, seven cases of cancer and six neurological diseases from just 50 properties in his area.
In addition, he reported that several dogs which walked through fields shortly after crop spraying had died from cancer, and that entire ponds of fish had also died following spraying. Douglas himself subsequently succumbed to cancer a couple of years ago.
I spoke to him two weeks before he died and he asked me to use his name and to carry on campaigning on behalf of all those affected. Mrs Lee lost both her husband and her son. A considerable number of studies have found an association between pesticide exposure and leukaemia, as well as other cancers.

There is also the tragic case of Keren Robbins who after years of being subjected to pesticide spraying in the locality to where she lived and suffering from both a neurological condition, and Multiple Chemical Sensitivity (MCS), was left feeling so powerless to stop the chemical onslaught that after a spraying application in 2009 in which her health was made worse, she took her own life by jumping in front of a train. Her husband was left devastated at the loss of his wife.
There are so many more horrific stories of people being poisoned from crop spraying near to their homes and many involve children. To highlight one other such case. I was recently contacted by Jason Bunn. Jason's family includes 10 month old baby twin girls, and in total there are 6 children under the age of 13.
The whole family have suffered repeated ill-health following the spraying of crop fields surrounding where they live (they are within 3 metres away from the nearest field). For example, they have all suffered from repeated nose bleeds (which is known to be an acute adverse effect of pesticide exposure) and the twins have had chesty coughs, raspy breathing and cold/flu like symptoms for over a month.
Jason informed me that their local GP has confirmed that pesticide spraying is the most likely cause of their symptoms. Jason himself has also suffered from neurological symptoms which he describes as being similar to those of Multiple Sclerosis. Also a few years ago Jason's dog developed lymphoma.
Pesticides are poisons – just like sarin
The UK Government quite rightly condemned the chemical poisoning of innocent people in Syria and which had included children.
Having read the UN weapons inspectors' report it is clear that many of the survivors of the sarin attack (sarin is an organophosphorus compound) suffered many of the same symptoms and adverse effects that innocent people in this country (including babies and young children) suffer as a result of chemical poisoning from the permitted and approved use of pesticides in the localities of where they live and breathe.
People are often truly shocked to learn that organophosphates (OPs), as well as other pesticide groups that can also result in neurotoxic effects in humans, (as well as other adverse health effects), are permitted under the existing Government policy to be sprayed on crop fields all over the UK (and as said earlier, commonly in mixtures), and that there is currently no protection at all for rural residents and communities.
Thus, it surely smacks of sheer hypocrisy and double standards that the Government yet again "stands idly by" (to use the words, albeit in reverse meaning, of our Prime Minister, David Cameron, when condemning the poisoning of people in Syria), to the poisoning of innocent people in this country.
Yet this is exactly what successive Governments' have continued to do, as the relentless and extraordinary attempts to protect the interests of the pesticides industry as opposed to people's health has been one of the most outrageous things to behold throughout all the years of my fight.
People before profits
Pesticides are obviously very big business. Sales of pesticides in the UK alone for 2011/12 was £627 million and reports have put the value of the world pesticides industry at around a staggering $52 billion. For many years, the agrochemical industry and big agricultural producers have had almost complete control over Whitehall in setting the pesticides policy agenda.
It is now 12 years since I first identified the serious failings of the UK Government's policy to protect public health. It is scandalous that neither the previous Government, nor the coalition, have to date done anything to protect the many millions of innocent residents living near fields sprayed with poisons. Quite the opposite, as both have fought tooth and nail to try and ensure the status quo is maintained.
This absolutely has to now change.
The Government must as a matter of urgency secure the protection of people in the countryside by prohibiting the use of pesticides in the locality of residents' homes, schools, children's playgrounds etc.
Many residents are waiting for the day we get a Hillsborough-style apology from the Prime Minister for the "double injustice" we have endured from firstly being poisoned by the Government's very own policy, and then having to fight for years for recognition of the damage caused and for the necessary protection to prevent other families suffering the same.
Considering the massive health and environmental costs of using pesticides it makes clear economic sense to switch to non-chemical farming methods. It is a complete paradigm shift that is needed, as no toxic chemicals that have related risks and adverse impacts for any species (whether humans, bees, or other) should be used to grow food.