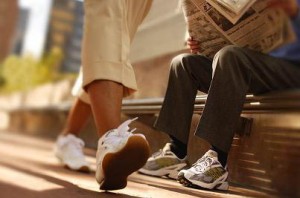 A daily walk lowers breast cancer risk
7 October, 2013
By Staff Writer
Natural Health News
Natural Health News — Postmenopausal women who are very active or who walk for at least seven hours a week have a reduced risk for breast cancer, according to a new study.
A large body of evidence shows that women taking part in regular physical activity have an approximately 25% lower risk of breast cancer compared to the most inactive.
But still unclear are issues such as whether moderate intensity activity, like walking, imparts a benefit in the absence of vigorous exercise. It is also unclear whether the association differs based on tumour features, such as hormone receptor status, or by individual factors such as a woman's body mass index (BMI), weight status, and use of postmenopausal hormones.
In addition, while prolonged periods of sitting have been associated with the risk of some cancers, the relation between sitting time and postmenopausal breast cancer risk is not well understood.
This new, and very large study, published in Cancer Epidemiology, Biomarkers & Prevention involved more than 73,000 women and adds to increasing evidence that physical activity reduces the risk of breast cancer in older women.
The women in this study, which was funded by the American Cancer Society, were part of a larger cancer prevention study and had been followed since 1992/1993.
A long term study
All the women provided information on the average number of hours they spent on various physical activities including walking, jogging, swimming, playing tennis, bicycling, and performing aerobic exercises every week, and the number of hours spent in leisure time sitting, including watching television and reading.
With this data the researchers were able to calculate the total hours of metabolic equivalent (MET) per week for each participant. MET is the ratio of the energy spent during a specific activity to the resting metabolic rate.
The researchers found that about 9.2% of the women did not take any physical activity at all. Around 47% reported walking as their only activity. The median MET expenditure among active women was 9.5 MET hours per week, which translates to 3.5 hours of moderately-paced walking.
They found that the most active women with 42 MET hours per week or more (at least one hour of vigorous activity every day) had a 25%t lower risk for breast cancer compared with women who were least active, with less than seven MET hours per week (e.g. moderately-paced walking for two hours a week).
Among women who reported walking as their only activity, those who walked for seven hours or more per week had a 14% lower risk for breast cancer, compared with those who walked for three hours or less. The study did not find any risk associated with time spent sitting.
Benefits from staying active
"Our results clearly support an association between physical activity and postmenopausal breast cancer, with more vigorous activity having a stronger effect," said lead researcher led by Alpa Patel, Ph.D. of the American Cancer Society.
"Our findings are particularly relevant, as people struggle with conflicting information about how much activity they need to stay healthy. Without any other recreational physical activities, walking on average of at least one hour per day was associated with a modestly lower risk of breast cancer. More strenuous and longer activities lowered the risk even more."
Current guidelines recommend adults get at least two-and-a-half hours per week of moderate-intensity activity, or 75 minutes per week of vigorous-intensity aerobic activity for overall health. But studies indicate less than half of US adult women are active at these minimum levels. In the UK the picture is much the same with just 56% of women reporting active for at least 30 minutes a day.
Things are slightly better in Australia where 38% of females aged 15 and over are sedentary. The percentage gets higher, however, as women age.
Given that walking is something that most women report doing anyway, "promoting walking as a healthy leisure-time activity could be an effective strategy for increasing physical activity among postmenopausal women," added Dr. Patel.