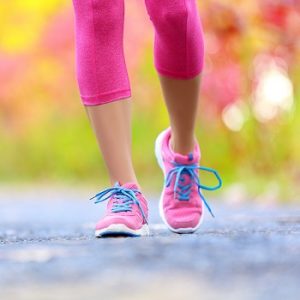 Daily brisk walk adds years to your life
1 September, 2015
By Staff Writer
Natural Health News
Natural Health News — Finding just 25 minutes in your day for brisk walking or slow jogging daily could add additional years, happiness, and well-being, say health experts.
Heart attacks are mainly triggered by coronary heart disease, which kills around 73,000 people in the UK every year and is the leading cause of death in both sexes. Heart disease generally affects more men than women, although from the age of 50 the chances of developing the condition are similar for both.
In a new study presented at the recent meeting of the European Society of Cardiology (ESC), researchers said that engaging in regular exercise could increase a person's average lifespan and reduce ageing.
What you need to know
» Heart disease kills 73,000 people in the UK each year – but new research suggests that  a brisk daily walk can reduce this number.
» When German researchers put men and women, aged between 30-60, on a staged exercise regime for 6 months, blood tests revealed that the exercise triggered an anti-ageing response, repairing old DNA.
» Regular walking, say the researchers could add up to 7 years to your life.
» A second study found that getting children to walk each day helped improve their blood sugar and insulin levels.
For the study, German researchers placed men and women between 30 and 60 years old on a staged exercise program. The participants were not regular exercisers but they did not smoke and were generally considered healthy.
Adding years to your life
Blood tests performed on the men over the 6 months of the study showed that exercising triggered an anti-ageing process that helped repair old DNA.
Lead researcher Sanjay Sharma, professor of inherited cardiac diseases in sports cardiology at St George's University Hospital, London said: "When you exercise moderately, you reduce your risk of dying from a heart attack when you're in your 50s and 60s by 50%. That's a really big deal."
Sharma, who describes exercise as an antidepressant that can improve cognitive function and retard the onset of dementia, added that physical activity can add between three to seven years of life.
The researcher said that exercise is beneficial regardless of a person's age or condition and recommended everyone to do at least 20 to 25 minutes of daily walking that involves slow jogging and brisk walking.
Better for kids too
A sedentary lifestyle isn't just bad for adults, it can affect children's health as well, putting them at risk of developing paediatric obesity and metabolic health problems such as diabetes.
In a related study from the US National Institutes of Health (NIH) taking 3-minute breaks to walk in the middle of a TV marathon or other sedentary activity was shown to improve children's blood sugar compared to continuously sitting
Researchers monitored a small group of children to see what happened in their bodies when they sat continuously for three hours or took 3-minute breaks to walk on a treadmill every half hour during that period
When children took breaks to walk, their blood sugar and insulin levels were lower than when they sat continuously. The findings indicate the children's bodies were better able to maintain blood sugar levels when their sitting was interrupted.
Together the studies suggest it is never too late – or too early – to become more active.