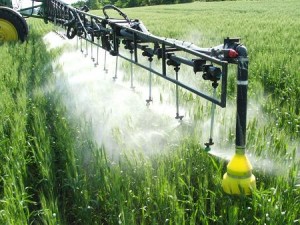 Agricultural fungicides create drug-resistant species for humans
16 July, 2014
By Staff Writer
Natural Health News
Natural Health News — Spraying fungicides on crops could be aiding a life-threatening fungus suffered by tens of thousands of people in the UK each year.
We already know that pesticides, in addition to harming human health, can also create resistant varieties of insects and weeds.
The same thing can happen when we are exposed to too many antibiotics. Some 50% of global antibiotics are used in livestock production and have been found to create resistant bugs that can harm human health.
Now, new research by British and Dutch scientists has found that Aspergillus – a common fungus that attacks the lungs and is found in soil and other organic matter – has become resistant to life-saving anti-fungal drugs in parts of rural Yorkshire.
Although the link has been made before in the Netherlands, it's the first time the link between drug resistance in Aspergillus and fungicides used on crops has been made in the UK. Experts warn their findings, published in the Journal of Global Antimicrobial Resistance,  are significant and raise serious implications for transplant patients, those with leukaemia and people who suffer from severe asthma.
In the three-year study, researchers from Radboud University Medical Centre in the Netherlands and The University of Manchester in the UK compared resistance profiles in 230 fungal samples, collected from rural areas in West Yorkshire which were treated with fungicides, to 290 air and soil samples from inner city sites across Greater Manchester.
They found no resistance from the sites in Greater Manchester compared to 1.7% resistance detected in West Yorkshire, implicating fungicide use in agriculture.
A huge threat to patients
One of the researchers Guus van Muijlwijk, of the Department of Medical Microbiology at Radboud University says he believes merging antifungal resistance in human pathogenic fungi is causing a huge threat to patients, especially to those with weaken immune systems, and this study emphasises that there may be even a greater problem in treating such diseases.
Noting that similar resistant species have been found in other countries – among them the Netherlands, Germany, France,  Denmark, India, China and Iran – he says the issues is "raising great concerns among clinicians as no new classes of antifungal agent are currently in clinical development."
Dr Michael Bromley, Lecturer at The University of Manchester and study leader commented: "Given the frequent finding of resistance across northern Europe, it is not a surprise to see resistance in the UK. However, the clear association with triazole fungicide usage is very worrisome, as some unlucky people at risk will breathe in untreatable Aspergillus, with potentially dire consequences."
Crops routinely treated with fungicides include: Wheat and barley, dried beans and pulses such as chick peas, lentils and field peas, peanuts, potatoes, maize, soya, rice, alfalfa, sunflowers, flax, sugar beets, cotton and tobacco. Earlier studies have made the link between agricultural use and the emergence of resistant species.
Diseases caused by Aspergillus affect millions of people worldwide, causing high morbidity and mortality. Resistance to antifungal drugs is becoming a real problem.
The only oral antifungal agents (triazoles) for human use are similar in structure to certain fungicides. The use of certain compounds in agriculture, notably difenoconazole, propiconazole, epoxiconazole, bromuconazole and tebuconazol are particularly likely to lead to resistance, yet are freely used in agriculture. There is a very limited range of antifungal compounds to treat fungal diseases and some fungi are now multi-resistant.