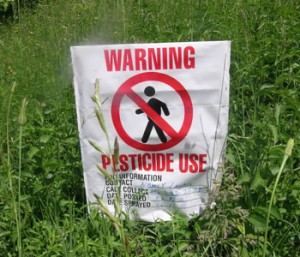 Does anybody really believe eating pesticides is safe?!
12 July, 2012
By Alex Formuzis, Pat Thomas
Natural Health News
Natural Health News — Most of us know we should be eating more fruits and vegetables, and that eating organic is the best way to avoid pesticide residues.
But if you are not eating organic, and still want to avoid pesticides, how do you know which foods are safest?
For several years the US campaign group Environmental Working Group (EWG) has published the Shopper's Guide to Pesticides in Produce in an effort to help consumers choose their produce wisely. The eighth edition – listing the 'Clean 15' best and the 'Dirty Dozen' worst fruits and vegetables – has just been released.
Not surprisingly chemical agribusiness is embarrassed by the list – which reveals the toxic truth behind foods that should be good for us.
A dirty campaign
The Alliance for Food and Farming, a front group for pesticide sprayers, is demanding EWG cease publishing its list and it's not above fighting dirty.
According to EWG the AFF has been trying to shut down consumer's access to its Shopper's Guide since 2010. That year it asked for, and received, nearly $200,000 in taxpayer dollars to launch a public attack on the Guide.
First, members of the AFF lobbied top Obama administration officials to weaken the US Department of Agriculture's annual pesticide residue tests that EWG uses to compile the Guide.
When that didn't work, they created a series of web videos  in order to try and convince people that eating pesticides posed no risks to health. Nobody swallowed what they were selling.
Now the AFF has released a report using data collected from an internet survey that claims EWG's Shopper's Guide, which has been used by millions of people to buy fruits and vegetables, is actually the reason Americans choose junk food over produce.
The AFF's report, titled Scared Fat, goes so far as to suggest that the Shopper's Guide is partly to blame for the exploding obesity epidemic in the US. It's a bizarre tactic, considering the now ample evidence that pesticides and other environmental toxins can act like chemical calories and encourage weight gain.
Concerns about tainted food
To produce the report the AFF asked the public to select factors they considered critical when buying fruits and vegetables.
The number one concern was food tainted with dangerous bacteria like E.coli, listeria and salmonella. The second most important factor was price. Concerns about pesticide residue came in third.
From this the 'expert' panel at the AFF concluded that "…cost, availability and preferences are much more significant factors [than pesticides] when it comes to purchasing fruits and vegetables."
It's a big stretch of logic to conclude, however, that people who choose a Big Mac and fries over apples and spinach are making that choice because they read EWG's Shopper's Guide.
Keeping consumers in the dark
Conventional growers, heavily dependent on pesticides and herbicides would, it seems, prefer that consumers – that is, their customers after all – know as little as possible when they walk into the supermarket. (It's a problem we are seeing more and more of, for instance in supplement labelling and cosmetics labelling as well!).
In the US EWG's Shopper's Guide provides important information to help people feel confident to eat plenty of healthy organic and conventional fruits and veggies without exposing themselves to the dangers of pesticide residues.
The rise and rise of organic
What may really be at the bottom of the AFF's angst are the recent sales figures for the organic food industry in the US.
The April 27 edition of The Grower reported that US sales of organic fruits and vegetables rose 11.7% last year, to $11.8 billion.  It cited the Organic Trade Association's annual survey as saying this healthy increase marked the third straight year US sales have risen by double digits.
Meanwhile, the sales trend for conventional (with pesticides) fruits and vegetables have remained relatively flat.
Interestingly, the AFF's own report showed that most survey respondents would address their own concerns about food safety this way:  "I would buy more organic produce."
As EWG's president and co-founder Ken Cook comments: "The explosive growth in market share for organic produce in recent years testifies to a simple fact that pesticide companies and the farmers who use their products just can't seem to grasp: people don't like to eat food contaminated by pesticides."
Doctors say eat organic
In recent years a number of organizations like the American Academy of Pediatrics and the President's Cancer Panel and noted public health experts, including Dr. Philip Landrigan, Dr. Andrew Weil, Dr. Mehmet Oz and Dr. Alan Greene, have urged Americans, especially young children and pregnant women, to reduce their dietary exposure to synthetic pesticides.
A growing body research has repeatedly shown that pesticide exposure could pose adverse health effects in people.
The only people who think we should eat more pesticides seems to be the members of the Alliance for Food and Farming.
Find out more
We know NYR Natural News readers on both sides of the Atlantic want to be confident of the food they eat.
To download a .pdf of the 'Clean 15' and the 'Dirty Dozen' for your refrigerator door click here.
Want to know more about the consequences of eating pesticides and find out more about the cleanest fruits and veg in UK shops? See the NYR Natural News article Five-a-day without pesticides. You can download the .pdf chart here.
Alex Formuzis is the Vice President for Media Relations at Environmental Working Group.